ASSOCIATED PRESS
MUMBAI — In a major reprieve for Bollywood superstar Salman Khan, the Bombay High Court today suspended the five-year sentence awarded to him in the 2002 hit-and-run case, admitted his appeal against conviction and granted him bail.
Justice Abhay Thipsay directed Khan to surrender before the trial court forthwith and execute a fresh bail bond of Rs 30,000. The interim bail granted to the actor hours after his conviction and sentencing on Wednesday was to expire today. While admitting the 49-year-old actor's appeal, the HC said it will expedite the hearing on it and posted the matter for June 15.
Khan went to the sessions court in the evening to surrender and furnish the bail bond. He then returned to his Bandra apartment, where fans cheered him like a hero.
"This is not a case where I should keep him (Khan) in jail till his appeal is heard and decided. Why his right should suffer when his appeal is admitted and kept pending? In many cases people have suffered and spent their entire prison term only to be acquitted later by the High Court," Justice Thipsay observed.
"The normal rule is that when an appeal is admitted and the sentence is under seven years, it (the sentence) is suspended. Why do you (prosecution) want to depart from this norm?" the court said.
After #SalmanBail Bollywood stars give their first reactions towards Indian judiciary sustem! #SalmanBailOrJailpic.twitter.com/N0ZIi6zMDR

— ●▬▬▬▬๑۩۩๑▬▬▬▬▬● (@NobelNerd) May 8, 2015
There is no question of Salman's non- appearance in future, he has deep roots in society: Majid Memon #SalmanVerdictpic.twitter.com/P1IXdNO0lA

— ANI (@ANI_news) May 8, 2015
Justice Thipsay noted that Khan has been on bail throughout the trial even after being slapped with the serious charge of culpable homicide not amounting to murder.
"There are a number of arguable points raised about whether or not Khan was driving the car. It is also nobody's case that Khan will abscond if he released on bail, pending appeal," he said.
Justice Thipsay directed Khan to seek court's permission before travelling abroad.
Soon after the high court's order, a visibly relieved Salman, dressed in casuals and sporting sun glasses, left his Bandra residence for the sessions court in the Fort area of south Mumbai to execute the fresh bail bond.
Jubilant fans and well-wishers, who had gathered outside his residence since morning, erupted in joy when the news reached them.
Mumbai: Salman khan leaves for Sessions Court #SalmanVerdictpic.twitter.com/OTAIoTyizh

— ANI (@ANI_news) May 8, 2015
The prosecution case is that Khan ran over five persons sleeping on the pavement in suburban Bandra, where the actor also resides, before ramming a bakery with his SUV on September 28, 2002, killing one person and injuring four.
The trial court had on Wednesday convicted and sentenced him to five years' rigorous imprisonment on the charge of culpable homicide and under various other provisions of IPC and other laws.
Khan's lawyer Amit Desai argued that the trial court had not considered the defence of the accused that there were four persons in the car, including his driver Ashok Singh, who was behind the wheel at the time of the accident.
He read out the evidence of four witnesses, including the investigating officer, who had said there were four people in the vehicle.
Desai also argued that prosecution's sole eyewitness Ravindra Patil (Khan's then police bodyguard) was an "unwilling witness" and he was "forced" to give his evidence about Khan driving the car.
The lawyer said Patil had in an interview a day after the accident said there were four persons in the car. However, during the trial, he contradicted himself by saying there were only three persons.
Desai said the trial court judgement holding that Khan was driving the car and that he was under the influence of liquor was not satisfactory. He also said that the trial court had failed to consider the defence plea of a 'tyre burst' having caused the accident.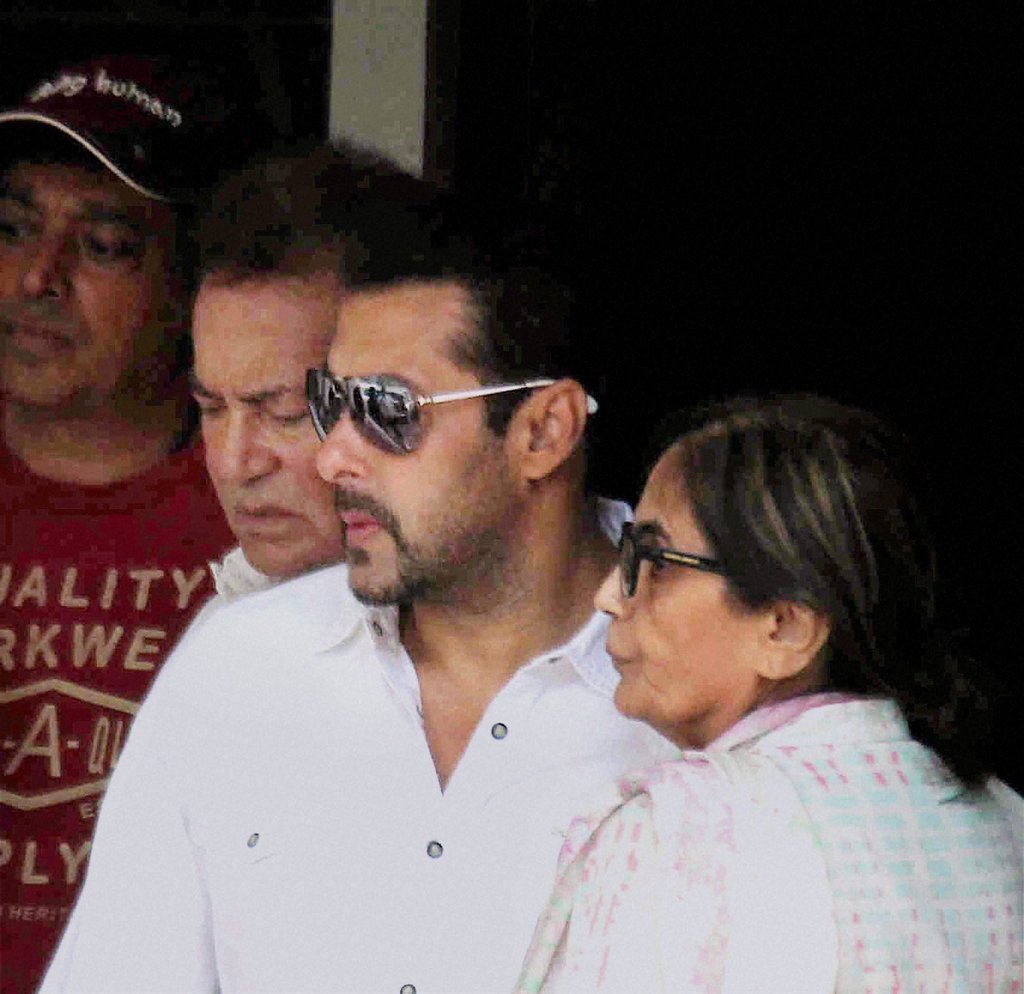 Khan's lawyer also questioned the prosecution's failure to examine singer Kamaal Khan, who was present in the car at the relevant time along with the actor and was a key eye witness.
Government pleader Sandeep Shinde, though not opposing the admission of appeal, objected to suspension of the sentence and argued that Khan had knowledge of consequences of rash and negligent and drunken driving. Therefore, he said, the trial court had rightly convicted Khan under the charge of culpable homicide not amounting to murder.
Mumbai: Celebrations outside Salman Khan's residence. pic.twitter.com/zePDWjBctW

— ANI (@ANI_news) May 8, 2015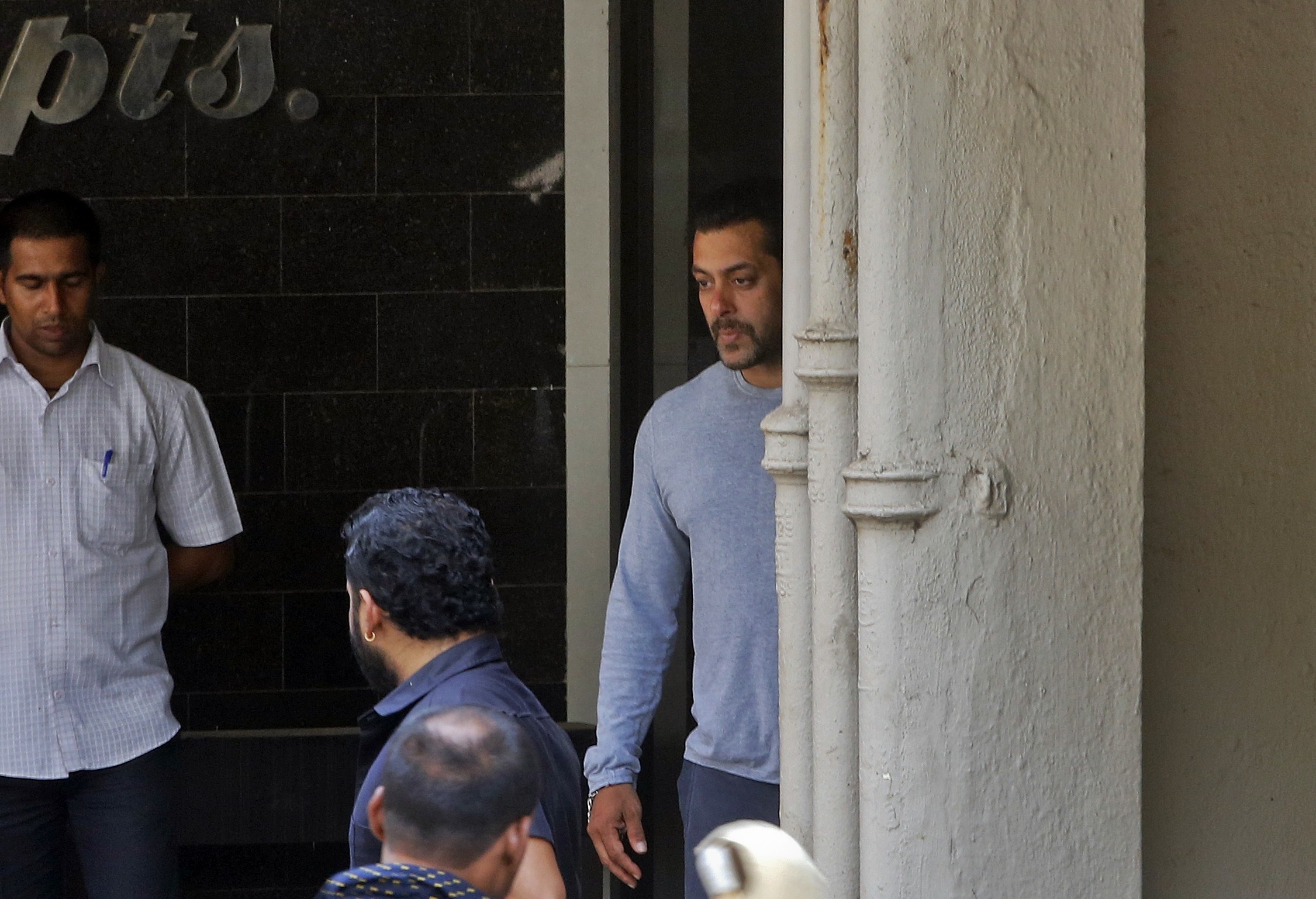 Shinde said the blood test of Khan revealed there was alcohol content above the permissible limit. He said while Kamaal Khan's statement was recorded by police during investigation, he was not available to them for examination before the trial court as he was a UK national.
Refuting the defence claim of four persons travelling in the vehicle, Shinde said the theory of Ashok Singh being at the wheel was introduced at the fag end of the trial when Khan made a statement under section 313 of CrPC and termed it as an "afterthought".
While Salman chose to keep away from the hearing today, his sister Alvira was present.
Also Read: Salman Khan Punished Perhaps Because He Is Muslim, Says SP Leader; Twitter Slams Him
Salman Khan on his way to Mumbai Sessions Court to furnish fresh bail bond #SalmanFridayReleasehttps://t.co/dTMncSU7pY

— TIMES NOW (@TimesNow) May 8, 2015
'Kamaal Khan will be brought back to India if required'
Senior advocate Abha Singh on Friday said that Kamaal Khan, a close friend of Salman Khan, who was one of the occupants of the car involved in the 2002 hit-and-run-case, would be brought to India if required.
"If we feel Kamaal Khan is needed for justice then we will file a petition to bring him back to India," Abha Singh, who is a petitioner in the case, told ANI.
Kamaal Khan was not examined as a prosecution witness, though his statement has been recorded by the Bandra Police.
Kamaal allegedly ran away from the spot along with Salman minutes after the incident, a claim the actor later denied in court.
High drama, tense anticipation
As #SalmanBailOrJail trended on Twitter, which had first appeared in the morning, a young fan named Gaurango Kundu attempted suicide outside Bombay HC while handing out pamphlets, according to various reports.
Salman Khan's fan tries to commit suicide by gulping phenyl outside BombayHC #SalmanBailOrJailhttp://t.co/SctGgmKrvTpic.twitter.com/7NsJb40Y3g

— ABP News (@abpnewstv) May 8, 2015
Kundu, who attempted to gulp phenyl, was caught by police, bundled into a van and taken away, said Times Now.
Here are some pictures of Salman fans:
ASSOCIATED PRESS

ASSOCIATED PRESS

ASSOCIATED PRESS

ASSOCIATED PRESS

ASSOCIATED PRESS

ASSOCIATED PRESS

ASSOCIATED PRESS

ASSOCIATED PRESS

ASSOCIATED PRESS
Like Us On Facebook |

Follow Us On Twitter |

Contact HuffPost India