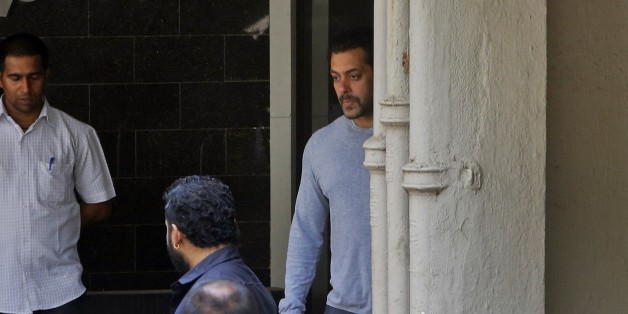 ASSOCIATED PRESS
MUMBAI — Bollywood actor Salman Khan has been given fresh bail by the Bombay High Court. The court suspended the actor's 5-year sentence in the 2002 hit-and-run case and asked him to surrender before the trial court and furnish a bail bond of Rs 30,000.
The final hearing on the suspension of his sentence will commence in July. Khan meanwhile, cannot leave the country without prior permission from the Bombay High Court, a prosecution lawyer said.
All attention was focused on Justice A. M. Thipsay of Bombay High Court before whom the Bollywood superstar's bail plea came up for hearing shortly after 11 a.m. here on Friday.
The hearing was crucial for the actor since it is the final working day of the high court before it goes for annual summer vacations till June 8.
Advocate Amit Desai who is arguing Salman's case, has asked the judge for some time for papers to reach court.
Khan himself, however, was not present at the court.
Meanwhile, security has been tightened outside the actor's Galaxy Apartments residence in the Bandra area of Mumbai.
Salman was found guilty and sentenced to five years in imprisonment on Wednesday by Additonal Sessions Judge D. W. Deshpande, in the September 2002 accident case in Bandra which had left one person killed and injuring four other pavement dwellers.
Shortly after the verdict, the actor moved Bombay High Court where Justice Thipsay granted him two-day interim bail on medical and other grounds.
Well-known criminal lawyer J. P. Mishra said that in all such cases, the first appeal is "a matter of right" of any accused pending disposal of the appeal.
"Since Salman Khan is appealing against the Sessions Court order, getting bail will be his natural right," Mishra told IANS.
Last Wednesday's interim bail had come hours after Salman was found guilty and subsequently sentenced to five years in jail, plus a fine of Rs.25,000 by Additional Sessions Judge Deshpande.
'Kamaal Khan will be brought back to India if required'
Senior advocate Abha Singh on Friday said that Kamaal Khan, a close friend of Salman Khan, who was one of the occupants of the car involved in the 2002 hit-and-run-case, would be brought to India if required.
"If we feel Kamaal Khan is needed for justice then we will file a petition to bring him back to India," Abha Singh, who is a petitioner in the case, told ANI.
Kamaal Khan was not examined as a prosecution witness, though his statement has been recorded by the Bandra Police.
Kamaal allegedly ran away from the spot along with Salman minutes after the incident, a claim the actor later denied in court.
High drama, tense anticipation
As #SalmanBailOrJail trended on Twitter, which had first appeared in the morning, a young fan named Gaurango Kundu attempted suicide outside Bombay HC while handing out pamphlets, according to various reports.
Salman Khan's fan tries to commit suicide by gulping phenyl outside BombayHC #SalmanBailOrJailhttp://t.co/SctGgmKrvTpic.twitter.com/7NsJb40Y3g

— ABP News (@abpnewstv) May 8, 2015
Kundu, who attempted to gulp phenyl, was caught by police, bundled into a van and taken away, said Times Now.
Like Us On Facebook |

Follow Us On Twitter |

Contact HuffPost India