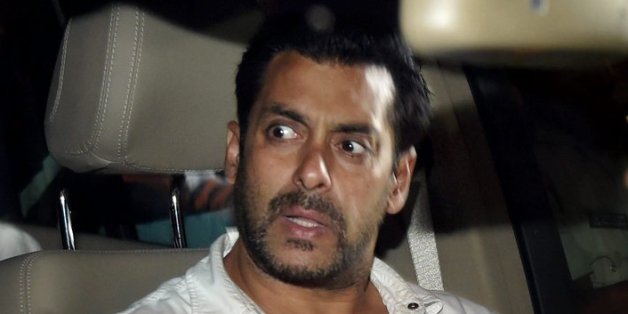 PTI
MUMBAI — All eyes are on the Bombay High Court which will hear Bollywood superstar Salman Khan's appeal against his conviction in the 2002 hit-and-run case and his plea for bail today. Salman's appeal is listed for admission on the board of Justice Abhay Thipsay, who had granted him an interim bail for two days.
The actor was convicted and sentenced to five years' rigorous imprisonment on various charges under IPC, including culpable homicide not amounting to murder, besides penal provisions under Motor Vehicles Act and other laws.
The trial court had found him guilty of ramming the American Express bakery in suburban Bandra with his Toyota Land Cruiser on September 28, 2002, killing one person and wounding four others sleeping on the pavement outside.
Soon after the conviction, Salman's lawyer had moved the High Court which granted him interim bail for two days since he had not been given a detailed, reasoned copy of the verdict on the basis of which his appeal would be heard. Later in the evening, trial court Judge D W Deshpande handed over a 240-page copy of the judgement to Salman.
"Since the appellant was on bail throughout the trial and since a copy of the judgement of conviction has not yet been furnished to him, it would be proper to protect the appellant for some time in the interest of Justice," Justice Thipsay observed while granting him interim bail till May 8.
Salman, who is on bail since last 13 years in this case, is not expected to present in the High Court when his appeal comes up for hearing.
Legal sources said his lawyers Harish Salve and Srikant Shivade would argue his bail plea in the absence of the actor as he was not required to be present under the law. In the appeal, the actor has challenged his conviction saying that the trial court had not considered his plea that he was not driving the car and that his family driver Ashok Singh was behind the wheel.
Meanwhile, MNS chief Raj Thackeray on Thursday called on Khan at his residence in suburban Bandra. However, the ruling BJP disapproved of the gesture, saying a politician paying visit to a person convicted by a court of law is not a "good precedent".
Thackeray, known to be close to the actor, met Salman and his family members at his Galaxy apartment in the posh suburb. The MNS chief did not interact with the media.
Before him, actor-producer Aamir Khan also called on the actor. Taking a dim view of Thackeray's meeting with the actor, BJP's Mumbai unit chief Ashish Shelar said though calling on a person is a personal issue but one should take cognisance of the verdict in the case.
"Meeting a person at his home is a personal issue. But meeting somebody who has been convicted by court is not a good precedent as far as politicians are concerned," Shelar said in a statement.
Congress leaders, however, sought to downplay the issue by evading a query on the propriety of a politician meeting a convicted person.
Like Us On Facebook |

Follow Us On Twitter |

Contact HuffPost India