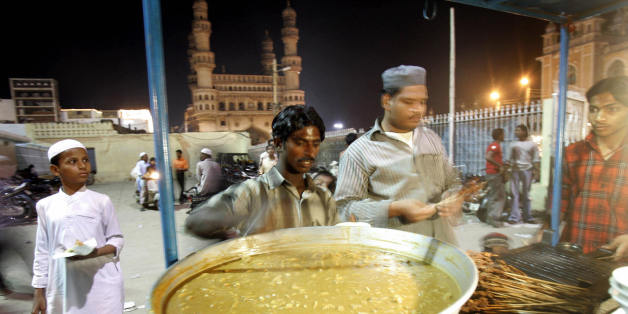 PRAKASH SINGH via Getty Images
The regal charm of Hyderabad lies in its ability to seamlessly merge its hi-tech hub with its ancient heritage. By-lanes of Secunderabad, Char Minar and Nampally are awash with pungent aromas that fuse typical Andhra cuisine with rich Nizam culinary offerings. If you are on a food trail in the city, there's cuppa Irani chai and a buttery-soft Osmania biscuit waiting for you.
Cloudy haleems, crispy dosas, toothsome biriyanis and the search for the elusive luqmi (short fried pockets of mutton that can out-triumph any self-respecting samosa) that seems to be galloping towards extinction - all this and more will have any true food lover falling in love with Hyderabad. A litre of watermelon ice cream here is the same price as a stick of gum. And, while Hyderabad is peppered with eateries, bakeries and watering holes, here are a few that you should not miss when in the city.
Like Us On Facebook |

Follow Us On Twitter |

Contact HuffPost India