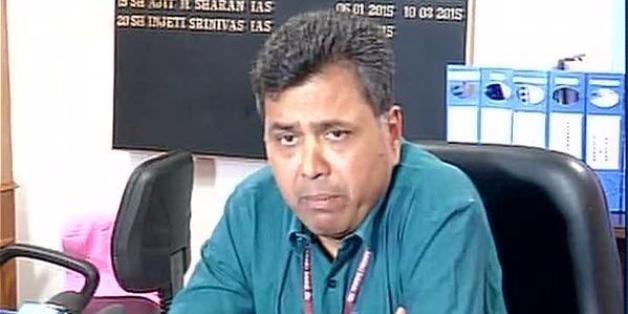 Twitter/ANI
A 15-year-old athlete has died while three others have been hospitalised following a suicide pact between them. All four were undergoing training at Water Sports Centre of Sports Authority of India (SAI) in Alappuzha, Kerala. In a suicide note jointly signed by them, they have alleged harassment by seniors which caused them to take the extreme step.
"SAI feels like a bereaved organisation," said Director General Injeti Srinivas on Thursday, adding that he received the news of the attempted suicide on midnight on Wednesday. "This is the most tragic and shocking incident in SAI's three-decade-long existence."
The girls are suspected to have consumed a toxic fruit, locally called 'Othalanga', at around 3 pm yesterday inside the SAI women's hostel. They were rushed to a hospital around 7 pm after they fainted and later taken to Alapuzha Medical College, where one of them died, police said.
Srinivas said that the primary focus of the organisation would be the medical treatment of the three girls who are currently in the Intensive Care Unit. While he assured that strict action will be taken if anyone from the organisation was found responsible, the first priority was ensuring the best treatment was given to the three girls.
"We've been following up with State authorities & SAI officials, but our priority is to save their lives," he said in a press conference on Thursday. "We have tried to ensure that they are getting best medical attention."
Explaining that there was no real antidote to the poison in the fruit, Srinivas said that the medical condition of the girls showed that the poison had entered their bloodstream, complicating treatment.
Srinivas said that pacemakers have been implanted on the girls to stabilise their heartbeat and potassium was being administered to them regularly to maintain a healthy level.
"At this juncture, it is difficult to say what will be their condition over the next 48 hours," he said. "We can hope and pray."
Union minister of state for sports Sarbananda Sonowal has directed Srinivas to immediately go to Alappuzha, also known as Alleppey, to assess the situation. Srinivas said that he had spoken with the Collector and District Magistrate of Alleppey and that one of the girls, who is conscious and able to speak, has given her deposition to the sub-divisional magistrate.
Srinivas expressed his condolences to the deceased girl's family, assuring that a complete investigation will be done into the allegations of harassment. "On behalf of the government and SAI, I would like to give my highest assurances to the bereaved families," he said. "I'll make the best efforts to meet with the parents and assuage their concerns and whatever best can to restore to normalcy."
Earlier, relatives of the athletes alleged that the girls were being physically and mentally tortured by some seniors.
However, the hostel warden, who denied the charges, said they came to know about the condition of the girls only when they fainted. "None in the hostel tortured them," she said.
Angry relatives of the girl who died said that unless an inquiry is ordered immediately and the guilty brought to book, they would block the national highway and not perform the last rites of their ward.
Srinivas said that SAI would conduct an administrative inquiry separate to the police investigation and carry out a judicial probe to ascertain what happened prior to the incident.
"SAI as an organisation is very responsible. We have 10,000 other trainees — who we consider our wards," he said. "If anything is found wanting on our side and anyone found at fault, then strictest of action will be taken."
Srinivas said that there was "no question" of being defensive or "shirking responsibility" in the matter. "We are the organisation, we have responsibilities, and we can't run away," he said.
Referring to a dying declaration by the 15-year-old athlete who passed away, as well as the suicide note found by investigating agencies, Srinivas declined to give any statement on the reasons behind the suicide attempt.
"We want that the remaining three lives are saved. I would only appeal that everybody concerned should cooperate," he said. "This incident has to be dealt with a very sensitive and sincere manner. There is no point of any blame game."
Like Us On Facebook |

Follow Us On Twitter |

Contact HuffPost India