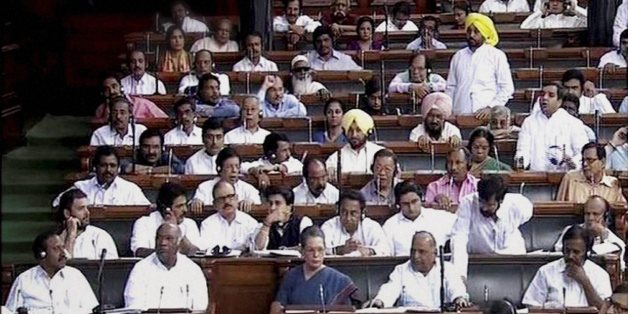 PTI
NEW DELHI — It was a tense few minutes in Parliament yesterday when 12 members of the Bharatiya Janata Party voted against a clause for the Goods and Services Tax Bill by "mistake", prompting finance minister Arun Jaitley to urge Speaker Sumitra Mahajan to have a re-division of votes. Jaitley claimed that there had been an electronic malfunction, because of which the vote count was incorrect.
Opposition members cried out in protest, saying, "This is not done... You cannot have this. We oppose."
The BJP has been gunning for the GST bill's passage, and had even issued a whip to all its members to vote in favour of the bill. After voting during clause 2 of the Constitution Amendment Bill ended with a dozen BJP MPs voting against it, Jaitley quickly turned to Minister of State for Parliamentary Affairs Rajiv Pratap Rudy.
Rudy, who was involved in floor management, in turn rushed to speak with the 12 BJP members. After apparently instructing MPs how to use the electronic voting mechanism, Rudy returned, and Speaker Mahajan acceded to the request for a re-vote.
The re-division saw the number of votes against the government going down to five from 24 and the number of those supporting it went to 354 against 264 earlier. 364 members voted this time while only 297 had voted earlier.
Modi's Absence During Voting
Suprisingly, Prime Minister Narendra Modi was himself absent during the voting in Parliament because he was out for lunch. According to reports, Modi was not present when voting on amendments to bill began. Concerned, Jaitley sought out party's chief whip Arjun Meghwal, who informed him that Modi was having lunch. By then, the Speaker had already asked for galleries to be closed.
Modi had recently stressed on full attendance during voting on Bills in Parliament.
(with PTI inputs)
Like Us On Facebook |

Follow Us On Twitter |

Contact HuffPost India