SACRAMENTO — Sacramento Kings backup center Sim Bhullar made history when he became the first player of Indian descent to play in an NBA game. Bhullar, who was born in Ontario, Canada and played in college at New Mexico State, checked in with 16.1 seconds remaining in the Kings' 116-111 victory over the Minnesota Timberwolves.
A crowd of 16,770 gave the 7-foot-5 Bhullar a standing ovation when he replaced Jason Thompson and lined up along the key while teammate Ray McCallum took the second of two free throw attempts.
Signed to a 10-day contract on April 2, Bhullar did not attempt a shot.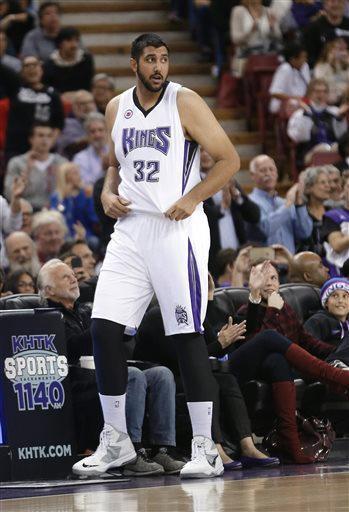 The 22-year-old came on with 16 seconds remaining in the Kings' 116-111 victory over the Minnesota Timberwolves on Tuesday. The Canada-born centre said he hoped he could help popularise the game in India after join the Kings'.
"It was a great feeling and I'm happy to be kind of an ambassador," he was quoted as saying by bbc.com on Wednesday.
Bhullar added: "Hopefully, more kids growing up will see there's a player of Indian descent on the court and we can get a couple more Indian NBA players."
Always dreamed of this moment 🙏 https://t.co/xsMa1yGR7Y

— Sim Bhullar (@SimBhullar2) April 8, 2015
The NBA is the men's professional basketball league in America. He had signed a 10-day contract to join the Kings' roster.
Bhullar, whose family migrated to Canada from Punjab, has already made waves in his blossoming career overcoming weight and height issues.
Though he lost about 16kg to get in shape for NBA, the Toronto-born player still weighs little over 160kg. He had been playing in the NBA development league for the Reno Bighorns, who are an affiliate of Sacramento Kings. Not long ago he was at the college level representing New Mexico State. Sacramento Kings is owned by Indian businessman Vivek Ranadive.
(Agencies)
Like Us On Facebook |

Follow Us On Twitter |

Contact HuffPost India