Hindustan Times via Getty Images
NEW DELHI — Senior Aam Aadmi Party leaders Yogendra Yadav and Prashant Bhushan lashed out at Arvind Kejriwal and his core team of supporters on Friday alleging that they were being pressured to resign from the party's national council.
"There's a difference between a conditional resignation and a resignation letter," said Yadav at a press conference on Friday. "If all the five issues we have brought up are seriously tackled, we will immediately give our resignations."
The duo said they were fighting for transparency and democracy within the party, which were its founding principles, and were against the Kejriwal's attitude towards decision-making, which they alleged was dictatorial.
"I have told Arvind earlier that he has weaknesses that can destroy the Aam Aadmi Party," said Bhushan. "He doesn't want anyone who disagrees with him or tells him his way might be wrong. In fact, he claims to have never been at a place where people disagree with him."
"We need inner-party democracy, dissenters within the party who have a backbone so that they stand up for what they believe in," he said.
"Arvind doesn't want anyone who disagrees with him."
Bhushan and Yadav in the press conference said that they were bringing up issues on behalf of all the volunteers in the party who had faith in their leaders. Yadav said that he hoped these issues — as detailed in their open letter to Kejriwal earlier — were brought up for fair discussion on Saturday at the party's national council meeting.
Read: Yadav, Bhushan Accuse Kejriwal Aides Of Spreading 'Lies' Against Them In An Open Letter
He added that it wasn't "worth discussing" if he or Bhushan remained part of the national council. He also said that he was not interested in being the national convenor for the party and in any case believed that any decision on that should be at the discretion of the national executive.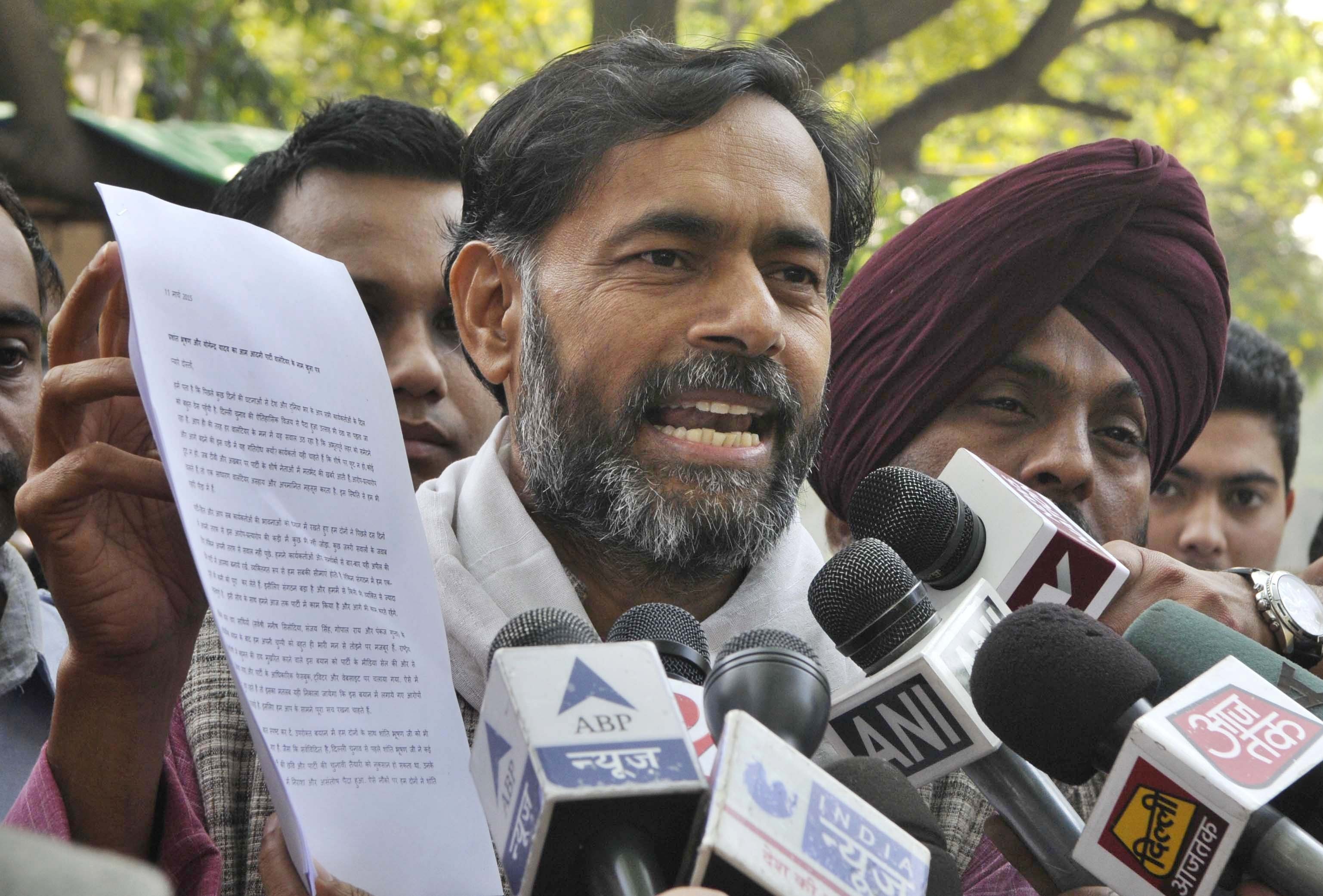 Meanwhile, Bhushan said that he had sent an SMS to Kejriwal on March 16, when he was on his way back from Bengaluru after his naturopathy treatment, requesting him to meet with him or Yadav to talk about issues that had cropped up, causing a rift within the party.
"Unfortunately, in 11 days, he has not had the time to speak to us," Bhushan said. "Instead, he has sent others to us repeatedly, asking for us to resign."
Read: Arvind Kejriwal Insists On Yadav, Bhushan Quitting As AAP Rift Widens
While Bhushan said the process to remove him and Yadav started since the result of the Delhi elections in 2013, when Kejriwal wanted to join forces with Congress to form government. Bhushan and Yadav had opposed the move, calling for a democratic decision on this after consulting other party leaders, but Kejriwal had refused, wanting to make the decisions unilaterally, said Bhushan.
"Unfortunately, in 11 days, Kejriwal has not had the time to speak to us."
Worried that the party would become yet another regional or state party, and not follow its democratic principles that had been its hallmark, the duo said they were pushing for reforms that would make inner-party workings more transparent, and decision-makers more accountable. These include bringing the party under Right To Information purview, videotaping major meetings to keep them on record, and make processes to reach decision open and honest, they said.
"Kejriwal things if he's honest, it is enough. But the means to decision-making need to be transparent as well," said Bhushan.
"We want the party to retain its democratic and transparency tag, and we're fighting to keep its spirit alive," said Yadav.
Bhushan and Yadav, in an open letter on Thursday had accused Kejriwal of initiating the talks only to secure their resignation from the the national executive. They had alleged that he was not showing seriousness on any of the major issues raised by them.
Reconciliation talks between the two warring factions in AAP appeared to have collapsed on Thursday with Kejriwal insisting on Yadav and Bhushan quitting the National Executive, ahead of the crucial National Council meeting on Saturday.
Like Us On Facebook |

Follow Us On Twitter |

Contact HuffPost India