LG
LG has unveiled four new smartphones ahead of this year's Mobile World Congress (MWC) which the company claims will incorporate premium design elements and features at a midrange price.
The four devices, named Magna, Spirit, Leon and Joy will be available in both LTE and 3G versions, which can be distinguished by metallic and patterned plastic back covers respectively. All the phones will debut with Android 5.0 Lollipop, with the exception of LG Joy, which will launch with Android 4.4 Kit Kat.
LG will introduce premium UX features like Gesture Shot and Glance View for taking selfies and accessing key information on the notification screen. LG hasn't revealed the prices for these devices, a global rollout to selected markets is expected this week.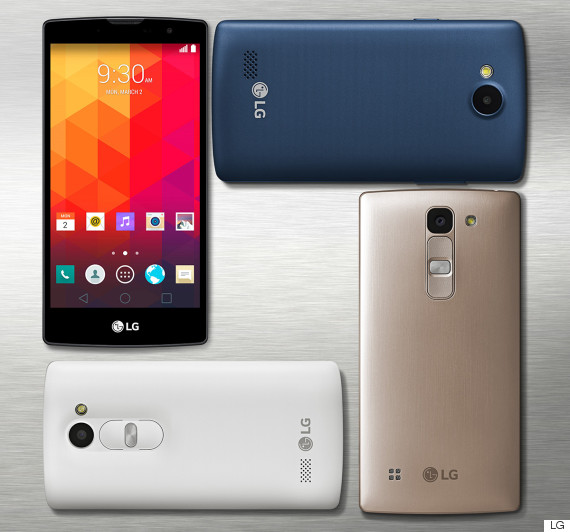 LG Magna
Display: 5.0-inch HD (294 ppi)
Chipset: 1.2GHz or 1.3GHz Quad-Core*
Camera: Rear 8MP / Front 5MP
Memory: 8GB / 1GB
Battery: 2,540mAh (removable)
OS: Android 5.0 Lollipop
Network: LTE Cat. 4 / HSPA+ 21Mbps
Size: 139.7 x 69.9 x 10.2mm
LG Spirit
Display: 4.7-inch HD (312 ppi)
Chipset: 1.2GHz or 1.3GHz Quad-Core*
Camera: Rear 8MP or 5MP* / Front 1MP
Memory: ]8GB / 1GB
Battery: 2,100mAh (removable)
OS: Android 5.0 Lollipop
Network: LTE Cat. 4 / HSPA+ 21Mbps
Size: 133.3 x 66.1 x 9.9mm
LG Leon
Display: 4.5-inch FWVGA (220 ppi)
Chipset: 1.2GHz or 1.3GHz Quad-Core*
Camera: Rear 8MP or 5MP* / Front VGA
Memory: 8GB / 1GB
Battery: 1,900mAh (removable)
OS: Android 5.0 Lollipop
Network: LTE Cat. 4 / HSPA+ 21Mbps
Size: 129.9 x 64.9 x 10.9mm
LG Joy
Display: 4.0-inch WVGA (233 ppi)
Chipset: 1.2GHz Quad-Core / 1.2GHz Dual-Core*
Camera: Rear 5MP / Front VGA
Memory: 8GB or 4GB* / 1GB or 512MB*
OS: Android 5.0 Lollipop / Android 4.4 KitKat
Battery: 1,900mAh (removable)
Network: LTE Cat. 4 / HSPA+ 21Mbps
Size: 122.7 x 64.0 x 11.9mm