Headlines Today/Rahul Kanwal via Facebook
The story goes that Kiran Bedi, India's first female IPS officer, used a crane to tow Prime Minister Indira Gandhi's car from Connaught Place in 1982. She was then transferred out of Delhi because the powers-that-be were outraged by the gutsy officer who had challenged the power bank of India.
This story became an urban legend — the tag "Crane Bedi" has stuck for three decades.
On Monday, however, the person who actually towed the PM's car spoke out on Indian news channels. ACP Nirmal Singh's televised interviews come after a recent spate of news reports which busted the urban legend.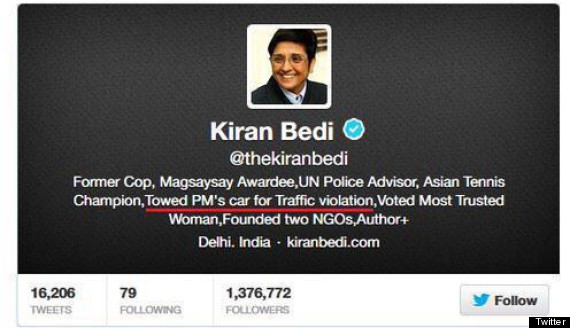 Bedi, now BJP's chief ministerial candidate in the Delhi polls, has unabashedly claimed credit for the episode for all these years. And she allowed the myth to grow around her. Her actual role in the event was not firing Singh, who was the sub-inspector on the scene in Connaught Place. She was the deputy commissioner of police.
In a conversation with Headlines Today, Singh narrated how the PM's car was obstructing traffic in CP, a central market place in Delhi, but he could not find its driver. He eventually called for the crane. "The crane came and I towed away with the car," he said. The car was fined 100 rupees.
Bedi and Singh's version of events differed on whether Gandhi personally traveled in that car. In an interview with NDTV, Bedi described it as the "PM house car." But Singh said, "That car belonged to the prime minister of India...Shrimati Indira Gandhi used to travel in that car at that time. Because I was in traffic, I knew it."
The retired cop still remembers the car number: DHD1817
Singh, however, said that he had never craved limelight for the incident. "It was part of my duty," he said.
Singh also confirmed that Bedi had indeed stuck up for him. "I told her that this has happened. She said 'You have done everything right.'"
Singh said that he was transferred within a month of the towing incident and Bedi followed suit. But it wasn't clear from the interview whether these transfers were connected to the car-towing incident or even with each other.
In the interview, Singh did not betray any resentment he might have harboured for being knocked out of the spotlight by Bedi. On the contrary, he described his former boss as a "dynamic leader" who was "very protective of subordinates."
In another interview with NDTV, Singh said that he "definitely" thinks that Bedi would be a good chief minister.