Hindustan Times
An advertisement for the Bharatiya Janata Party shows a garlanded cartoon of Anna Hazare, leading to Aam Aadmi Party chief and AAP's chief ministerial candidate for Delhi, Arvind Kjeriwal, to ask BJP if they've "killed off" the anti-corruption activist.
Traditionally, a person's photo is garlanded after his death as a mark of respect.
Kejriwal cited the newspaper advertisement in a series of tweets and said Nathuram Godse killed Gandhiji on January 30, 1948 while the BJP has killed Anna in its ad today. He demanded that BJP apologise for the gaffe.
Kejriwal, who promised not to take support from Congress, is seen in a "marriage" with the party.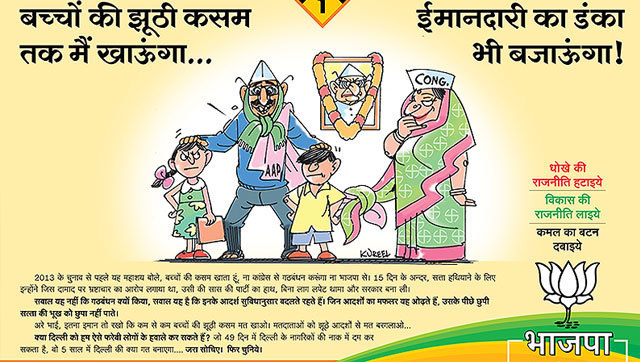 Nathuram Godse killed Gandhiji on this day in 1948. BJP has killed Anna in its ad today. Shudn't BJP apologise?

— Arvind Kejriwal (@ArvindKejriwal) January 30, 2015
I will always pray for well being and good health of Annaji

— Arvind Kejriwal (@ArvindKejriwal) January 30, 2015
This is what the final picture of vision and agenda being offered to the Delhi by political parties. Tough fight ? pic.twitter.com/5yEerRcrqv

— Ashutosh Mishra (@ashu3page) January 30, 2015