Master OSM 2011/Flickr
Several internet users on Twitter are reporting that Facebook and Instagram are down, we checked both the sites on our browsers and it seems like it is indeed the case, with connection timeout messages on both the websites. The app is not refreshing with new feeds either.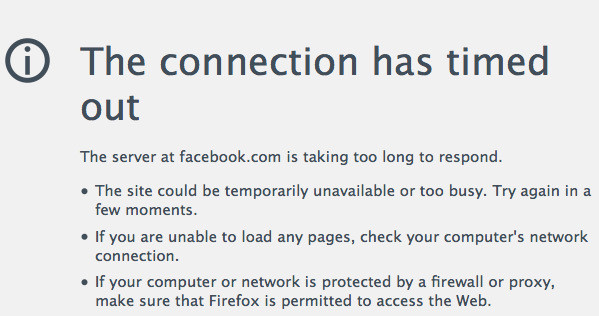 Based on the Twitter timeline, it seems like both the sites went down at 11:30 IST. Facebook has yet to acknowledge the outage, we'll be getting in touch with their representatives to find out more.
Update: Twitter users are saying that online dating app Tinder, AOL Instant Messenger, and Hipchat are down too.
Update 2: We've got a statement from a spokesperson for Facebook India, which acknowledges the downtime. "We're aware that many people are currently having trouble accessing Facebook and Instagram. We're working to get things back to normal as quickly as possible."
Update 3: Facebook and Instagram is up and working for us at 12:40 pm IST. The cause of downtime could be a DDOS attack, based on the tweet from Avinash Kunnath.
Update 4: Here's the the official statement from Facebook, which confirms that this wasn't the result of a third party attack, but the result of a faulty update: "Earlier this evening many people had trouble accessing Facebook and Instagram. This was not the result of a third party attack but instead occurred after we introduced a change that affected our configuration systems. We moved quickly to fix the problem, and both services are back to 100% for everyone."
Facebook is Down. Instagram is Down. Whatsapp is Up. That tells you who is sharing critical infrastructure.

— Rahul Thathoo (@thathoo) January 27, 2015
Not Just You: Facebook and Instagram are Down http://t.co/oCU9KxrE8u … pic.twitter.com/jsDnYCs0jG

— XamHeena Fathimath (@XamJo) January 27, 2015
Facebook and Instagram have been down for 30 mns. Just read 4 books.

— Chris D'Elia (@chrisdelia) January 27, 2015
OMG FACEBOOK IS DOWN HOW WILL I THUMBS UP BABY PICTURES OF OTHER PEOPLES CHILDREN INSTEAD OF SLEEPING WHAT?!?!?!?!

— Felicia Day (@feliciaday) January 27, 2015
Facebook is down, Instagram is down? Is this the storm they were talking about?!

— samir mezrahi (@samir) January 27, 2015
Facebook, Instagram, and Tinder are down......

Does this mean bed time?

— Mikey Sul (@Mikey_Sul) January 27, 2015
SOCIAL MEDIA SITES DOWN:

• Facebook

• Instagram

• Tinder

• AIM

• Hipchat pic.twitter.com/TdJ0k6t3Ov

— Breaking News Feed (@PzFeed) January 27, 2015