Hindustan Times via Getty Images
In a new twist to the Sunanda Pushkar murder case, it has emerged that Congress MP Shashi Tharoor had accused the Delhi police of torturing his domestic help to force him into implicating him (Tharoor) in the death of his wife, according to a letter he wrote to the Delhi Police Commissioner last year.
In the strongly worded letter, a copy of which is with Huffington Post India, Tharoor wrote to Commissioner B.S. Bassi in November, and accused the police investigators of assaulting his domestic help Narayan Singh to allegedly extract a "confession" that he and Tharoor murdered Sunanda. Singh is also one of the key witnesses in the case.
"I was shocked and appalled to learn... Narayan Singh was repeatedly physically assaulted by one of your officers. Worse, that officer used the traumatic physical assault to try and intimidate Narayan into 'confessing' that he and I had murdered my wife," Tharoor wrote.
Tharoor claimed in the letter - which he appeared to have written following a telephone conversation with Bassi - that Singh had been repeatedly assaulted during a 16-hour interrogation on November 7 by four police officers and again during a 14-hour interrogation on November 8.
"Such conduct is completely unacceptable and illegal," he wrote. "It also attempts to the use of physical coercion in the attempt to frame an innocent man," Tharoor wrote.
Delhi police, when contacted, refused to comment.
Bassi on Tuesday said Sunanda was poisoned to death, sending shockwaves through the political circles of the national capital. Bassi said the poison was either taken orally or injected adding that the police have registered a murder case and are sending forensic samples abroad for testing.
A special team has been formed to question people relevant to the case and comb evidence.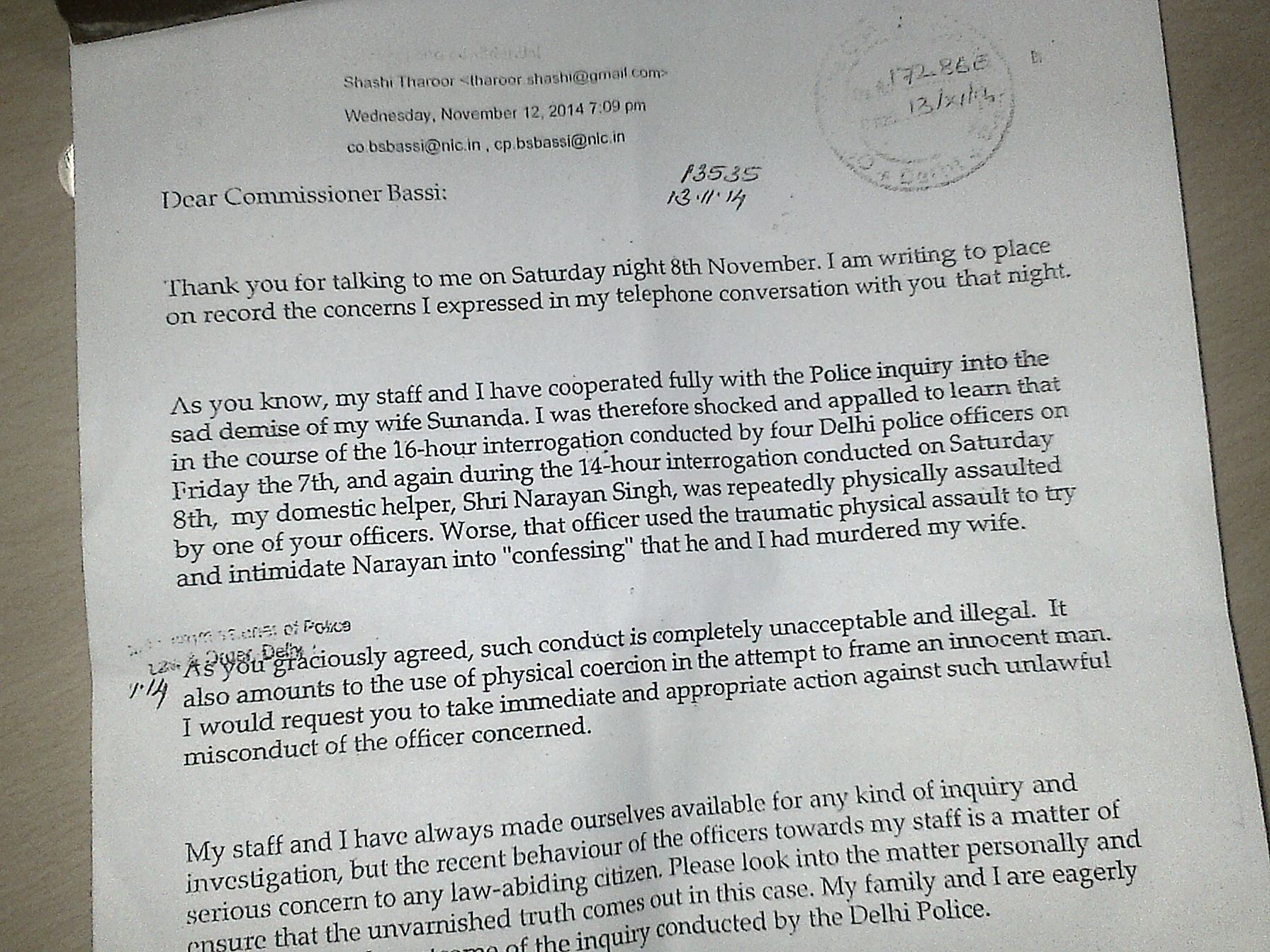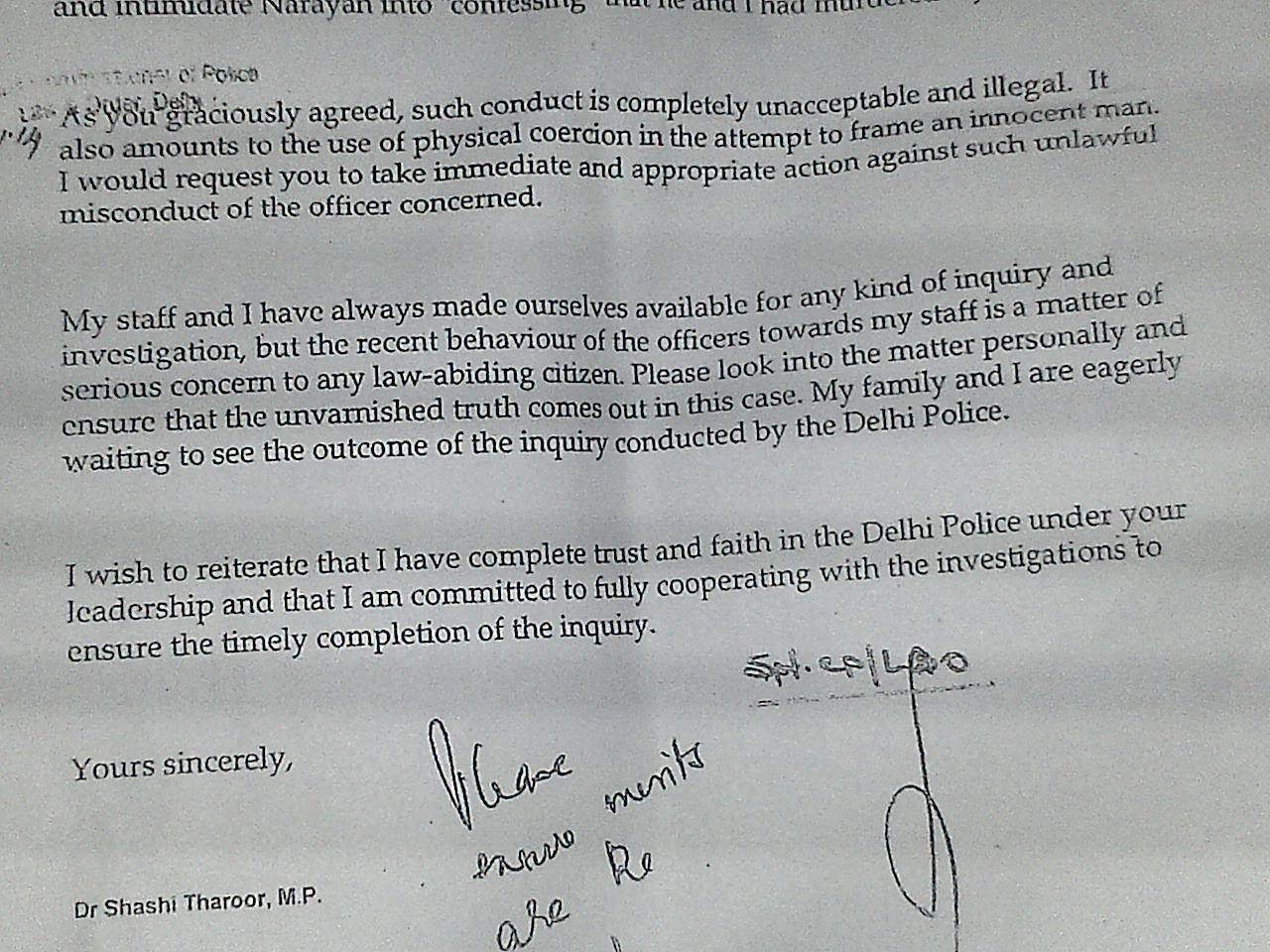 Tharoor had said on Tuesday that he was stunned to know that his wife Sunanda Pushkar was poisoned, and had never suspected any foul play in her death, which took place a year ago.
In a statement here, Tharoor said: "Needless to say I am anxious to see that this case is investigated thoroughly, and (I) assure the police my full cooperation.
"I am stunned to hear that the Delhi Police have filed a case of murder against unknown persons in the demise of my late wife Sunanda," he had said in an official statement. "Needless to say I am anxious to see this case is investigated thoroughly and continue to assure the Police of my full co-operation."
He had called for a comprehensive investigation into the murder, and asked to learn how Delhi Police had come to the conclusion.
"I join all members of Sunanda's family in asking for full information about the basis on which the Police have come to this conclusion," he said in his statement. "We have not been provided with copies of the postmortem report and other reports of the inquiry like the CFSL report till date. We repeat our request for a copy of these reports to be provided to us immediately."