Pulled from Twitter
The chilling image of a child's bloody shoe, which went viral over social media on Tuesday, it turned out is not from the scene of the horrific killing of school children by the Taliban in Peshawar.
BBC reported that a search on the photo-lookup site TinEye revealed it has been used in the past by both sides in the Israeli-Palestinian conflict.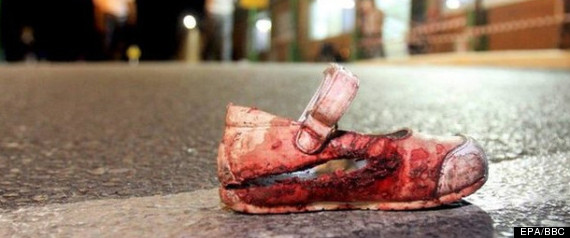 Twitter and Facebook users shared the image liberally yesterday, believing it to be from the grisly Peshawar attack. The tiny red sneaker smeared in blood pulled at the heartstrings of people and triggered a volley of shocked and outraged tweets.
The European Pressphoto Agency has the copyright of another photo that shows a similar blood stained child's shoe placed on the ground. This image was taken in Ashkelon in May 2008 when a rocket was fired by Palestinian militants from Gaza into Israel.
The EPA told BBC that it does not have copyright to image of the little red shoe held in the hand that was linked to the Peshawar killings.