Let's hope Delta's pilots have a better sense of direction than whoever's running the airline's Twitter feed.
In an attempt to congratulate the United States for its 2-1 win over Ghana in the World Cup on Monday, the company tweeted two images that were supposed to represent the two nations: the Statue of Liberty and... a giraffe.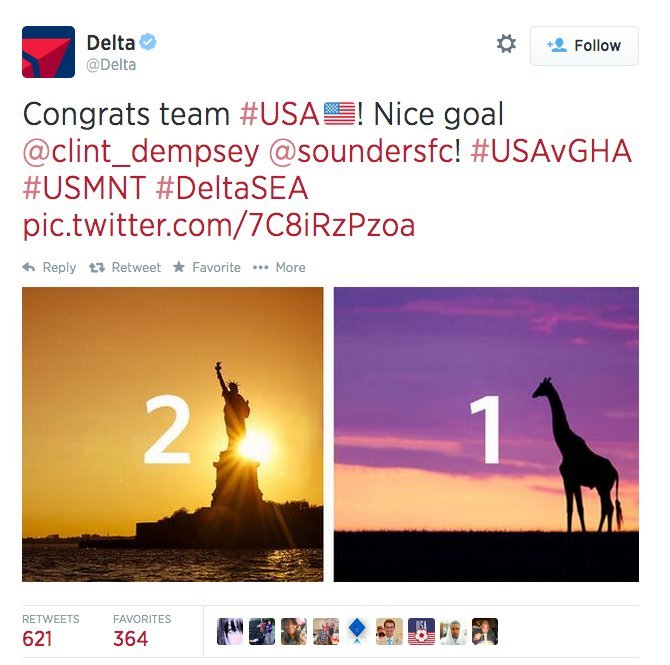 But while Ghana is known for its rich culture, scenic beaches and forests, there's one thing it's not known for: giraffes.
"Please realize that we are not the destination of choice for a big-time safari adventure," Easy Track Ghana, a travel firm located in the country, warns on its website. "There are no giraffes or zebras or leopards living anywhere in Ghana. Lions exist here, but you would never see one."
In fact, Twitter user @dcGisenyi figured out that the photo used in the Delta tweet was actually a stock image of a giraffe at the Masai Mara National Reserve in Kenya, some 3,000 miles away.
As such, the tweet was soon deleted, but not before it set off a storm of reactions:
I'm guessing that when you book a flight to any of Nigeria or Kenya or the Ivory Coast or Ghana, @Delta tickets just say 'Africa, whatever'

— Bruce Arthur (@bruce_arthur) June 17, 2014
Delta social media expert is lining up some *sweet* images of Barcelona for the USA - Portugal game on Sunday.

— Tom Gara (@tomgara) June 17, 2014
Giraffes. Because Africa. Get it? https://t.co/eUv0E2oG0W

— Matt Yglesias (@mattyglesias) June 17, 2014
"The original tweet was made in the spirit of the World Cup," Delta spokeswoman Kate Modolo told The Huffington Post by phone. "We apologized for the photo, but at this point it's been replaced and that's where we're at."
The company also issued an apology on Twitter. But that apology accidentally referred to the previous tweet as "precious" and was quickly removed: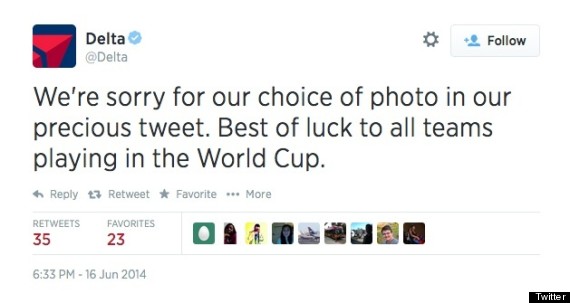 The company's second attempt at social media damage control was more successful:
We're sorry for our choice of photo in our previous tweet. Best of luck to all teams.

— Delta (@Delta) June 17, 2014
The Huffington Post's Alexander Kaufman contributed to this report.