McDonald's has pulled down advice on how to tip au pairs and pool cleaners from a website meant to provide company workers with "practical solutions to many of life's problems and challenges."
In the now-deleted post, focused on holiday tipping etiquette, McDonald's workers are told to tip the dog walker "one week's pay," the babysitter "one evening's pay" and the fitness trainer "the cost of one session," among other potential scenarios.
Workers are told to consider above all else their budget. (The typical fast food worker made $18,130 in 2010, according to Labor Department data.) Here is a screenshot of the now-deleted post, courtesy of CNBC (story continues afterward):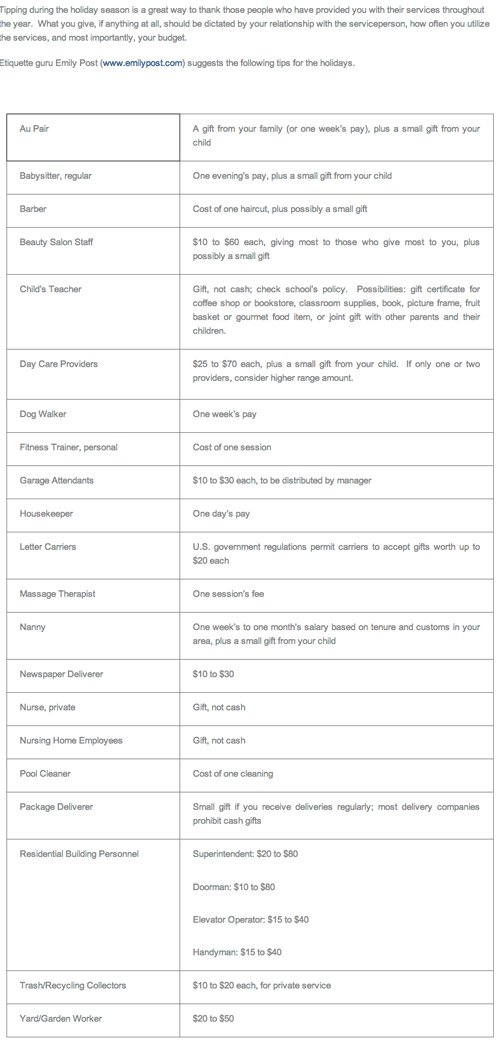 The tipping advice is the latest faux pas related to the McResource Line, a company website dedicated to personal wellness. The site previously offered a sample budget that suggested workers don't pay for heat and told those experiencing stress to consider a vacation.
McDonald's spokeswoman Lisa McComb told The Huffington Post that McDonald's did not create the post and asked the vendor that created it "make updates as needed."
McDonald's would not reveal the name of the vendor. The restaurant chain's website lifts liberally from the website of Emily Post, a company that McComb labeled "one of the best-known etiquette gurus" in an email to CNBC.
The McDonald's deletion comes on the same day fast food workers around the country walked off the job, protesting what they describe as low wages and demanding $15 per hour.
When The Huffington Post tried to find the post on the McResource Line, we reached an error page, though the original headline still appeared in a search: