We know that many men find shopping challenging, which is why we've whipped up clothing guides for everything from pants to suits to shoes to shorts (yes, we're OK with guys wearing shorts -- sometimes). But at the end of the day, it's easiest to just have a simple, go-to list: What does a guy need to have in his closet and what can he do without?
To break it down in the clearest way, here is a list of 17 items every guy should own.
1. Desert boots.We've said it before and we'll say it again: Desert boots are the most versatile yet neutral shoes a modern guy can own. The lace-up shoes, featuring a flat sole and a slight high-top over the ankle, strike that elusive note between casual (e.g. sneakers) and "fancy" (dress shoes). Plus they come in traditional suede as well as canvas and can work with just about any pants. Need we say more?

Desert Boot, Clarks, $119.99; Danny Boots, Saturdays Surf NYC, $125.
2. Converse sneakers. Yes, nearly everyone has them. There's a reason for that. A simple pair of solid-colored, low-top Converse All-Stars are effortlessly casual, signal cool and are comfortable without being schlubby. Get a pair in navy, dark gray, black or even white if that's your sort of thing.

Chuck Taylor Washed Canvas, Converse, $65; Chuck Taylor Ballistic Camo, Converse, $55.
3. A leather watch. We don't care how many digital devices you have to tell you the time -- a grown man wears a watch. Avoid seeming too flashy by choosing a leather band in either brown or black, depending on which color you wear most. (Not sure? Survey your closet and see whether your leather shoes and belts tend to be black or brown.)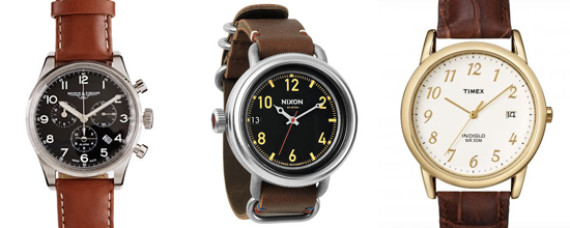 Chronograph Watch, Mougin & Piquard for J. Crew, $695; The October Leather, Nixon, $300; Easy Reader, Timex, $45.
4. A navy suit. You likely wore a black suit to your high school graduation, Bar Mitzvah or your second-cousin's wedding your mom forced you to go to. But as a grown man, leave the black for funerals and go with timeless navy. A navy suit will flatter all skin tones, fit in at both laid-back and more formal events and give you endless possibilities for shirt-and-tie color combos.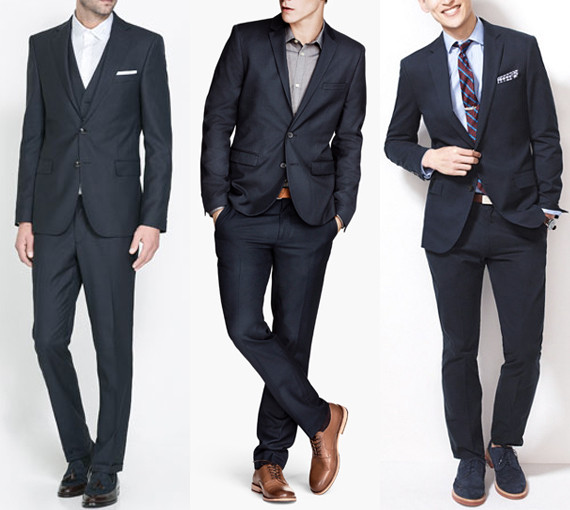 Tailored Suit, Zara, $278.90; Suit, H&M, $104.90; The Ludlow Italian Chino Suit, J. Crew, $456.
5. A gray sport coat. When a suit is a tad too formal and a plain button-down won't do, throw on a sport coat with just about any pants (jeans, khakis, suit pants of a contrasting color) and you're good to go. Go with a dark gray, which will match navy, black, brown, khaki, denim...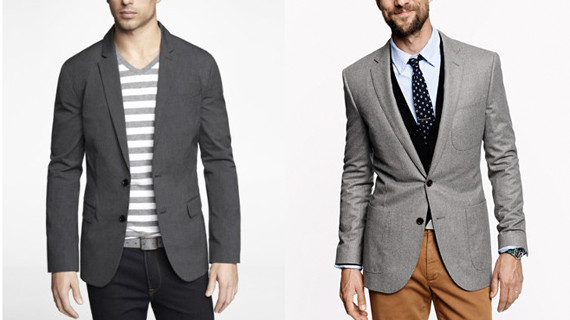 Micro Dot Cotton Blazer, Express, $128; Ludlow Club Sportcoat, J. Crew, $425.
6. A dark wool jacket. Unless you're lucky enough to live in, say, Florida, you're going to need to bundle up at some point. Instead of a puffer jacket, which should be reserved for the ski slope, get a short wool jacket in either gray or navy or camel (or black, if you insist) that hits right below your hips. A double-breasted pea coat works, as does a more casual duffle coat with toggles. Just make sure it isn't too long -- you're not in the Matrix.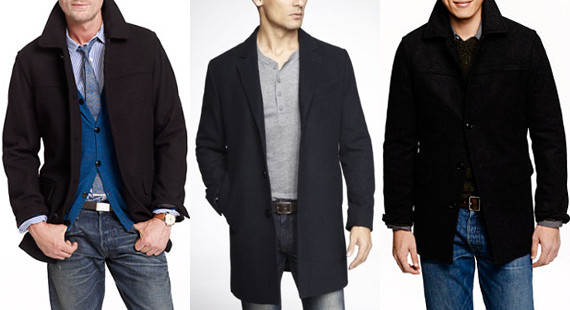 University Coat, J. Crew, $235; Slim Wool Blend Coat, Express, $248; University Coat, J. Crew, $235.
7. Brown leather dress shoes. Yes, brown, not black. In fact, a lighter camel color is preferred to a dark chocolatey brown, since it will match that navy suit perfectly (not to mention the gray and khaki suits we hope are also in your collection).

Warwick Oxford, To Boot New York, $398; Prichard Derby, Santoni, $495.
8. A brown leather belt. To match the shoes, of course.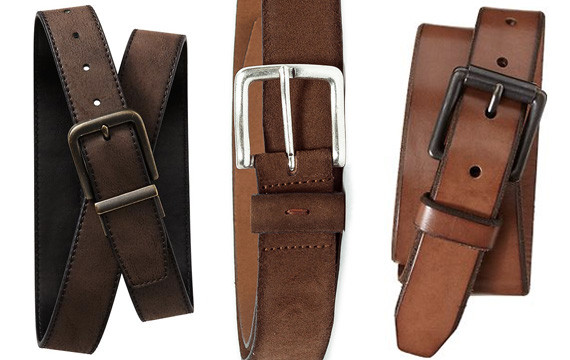 Men's Reversible Leather Belt, Old Navy, $20; Suede Belt, Zara, $39.90; Vintage Leather Belt, Gap, $34.95.
9. A simple, dark tie. Suits don't always require ties (in fact, we find a suit paired with a a nonchalantly unbuttoned-at-the-collar shirt rather attractive). But you will need a tie, so you should have a go-to option. Go with solid gray or dark red if you're traditional, a Repp tie (thick navy diagonal stripes with a contrasting color) if you're preppy and a very small, very subdued print in dark colors if you're daring (think gingham or micro-checks in neutral tones).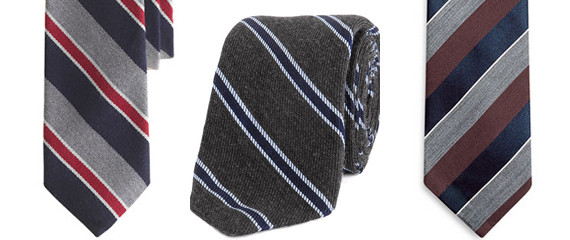 Wool-Silk Tie, J. Crew, $69.50; Sculling Tie, Rag & Bone, $125; Striped Tie, Zara, $35.90.
10. Dark, straight-legged, unembellished jeans. No rips, no tears (accidental or purposeful), no studs and no pre-fading. No sagging in the butt, no bunching around the ankles and no bagginess around the thighs. That's all we ask.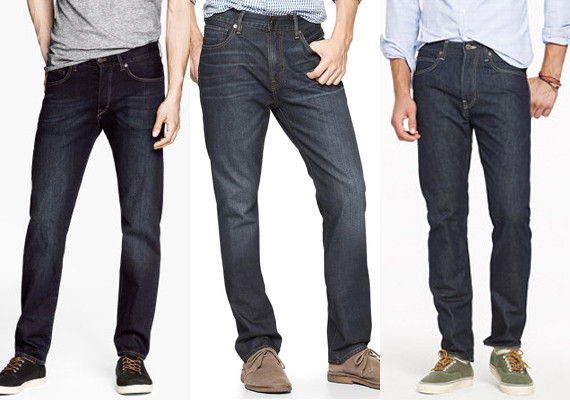 Straight Regular Jeans, H&M, $39.95; 1969 Slim Fit Jeans, Gap, $59.95; 101 Slim Rider Jean, Lee for J. Crew, $160.
11. Dark, straight-leg khaki pants. Same fit requirements as the jeans, but this time, in a dark khaki color -- not that stonewash, almost-gray color of Dockers you wore at age 12. Go with a caramel or camel hue that will work with a gray sport jacket or red flannel button-down alike.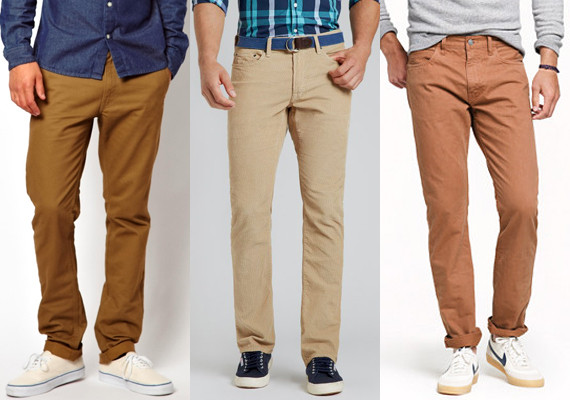 Cheap Monday Chinos Slim Fit, ASOS, $84.38; French Corders Khaki, Bonobos, $125; 770 Garment-Dyed Jean, J. Crew, $108.
12. A plain, solid-colored hoodie. You're going to want to wear a sweatshirt (like, every day), so be sure to have a nice one on hand. That means something slightly fitted that hits no lower than the hips with sleeves that aren't too long. Oh, and no logos or writing whatsoever.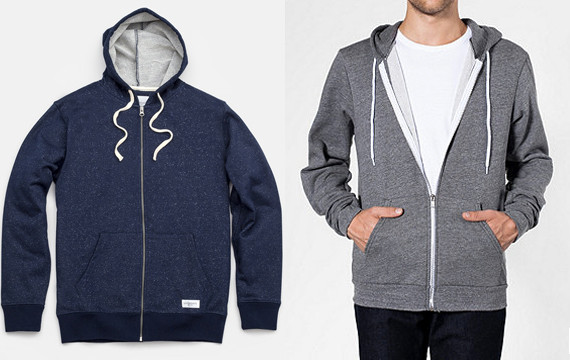 JP Zip Hooded Sweatshirt, Saturdays Surf NYC, $118; Salt And Pepper Hoodie, American Apparel, $50.
13. Plain, solid-colored crewneck t-shirts. Same idea as the hoodie -- you'll want to go casual, so make sure you have tee options that don't have the names of sports teams, frats or unfunny jokes written on them.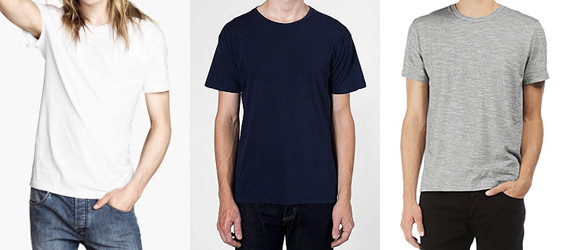 Basic T-shirt, H&M, $5.95; Power Washed Tee, American Apparel, $26; Basic Tee, Rag & Bone, $80.
14. A solid crewneck sweater. In cashmere, wool or even cotton, a thin crewneck sweater is one of the most versatile items you can own. Wear it with jeans and a t-shirt underneath with the sleeves pushed up, or try it with a button-down underneath for that preppy look, or just throw it on with khakis or even suit pants for an easy, pulled-together appearance. We recommend light gray, navy, beige or perhaps maroon to complement the other neutrals in your closet.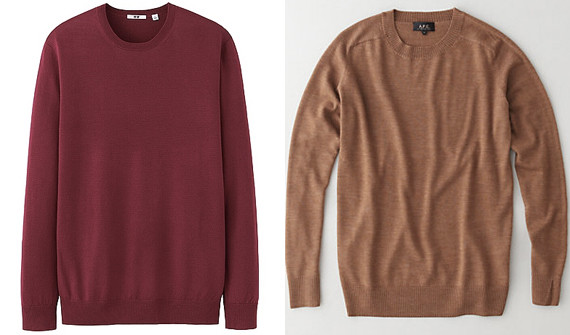 Extra-Fine Merino Crew Neck Sweater, Uniqlo, $39.90; Fine Merino Wool Pullover, A.P.C., $220.
15. Solid-colored boxer briefs. Boys wear boxers, men wear boxer briefs. (Or briefs, but we've taken a highly unscientific survey of straight women and the votes are in: Boxer briefs > briefs.) Stock up on solid colors and, for the love of God, throw them out when they get holes in them.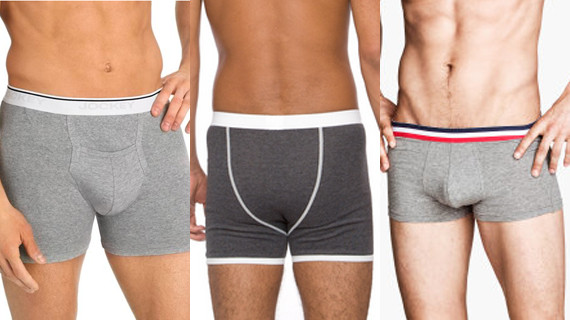 Pouch Boxer Brief, Jockey, $17.99 for two; Baby Rib Boxer Brief, American Apparel, $16; Boxer Shorts, H&M, $17.95 for three.
16. A medium-sized bag that works for both the gym and a weekend away. We know bags are tough for men, ever afraid of the dreaded "murse." So here are some guidelines: Try a messenger bag or a duffle, go solid or with a subtle pattern and make it leather, cotton or canvas. That's about all you need to know.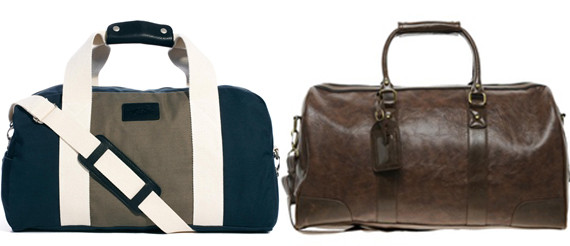 ASOS Canvas Holdall, ASOS, $42.19; River Island Hold-All, ASOS, $75.94.
17. A black umbrella. When Gene Kelly kissed his lady on the doorstep and promptly started singin' in the rain, he wasn't carrying some flimsy neon thing with logos or ripped edges -- he has a solid, trusty, black umbrella. If it worked in 1952...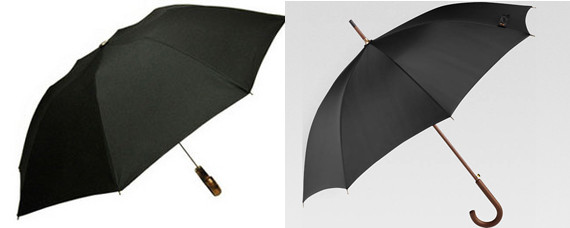 Doppler Rancher, Doppler, $105; Shedrain Black Umbrella, Men's Warehouse, $28.
Take it from these guys, who always look good:
Want more? Be sure to check out HuffPost Style on Twitter, Facebook, Tumblr, Pinterest and Instagram at @HuffPostStyle.
This story appears in Issue 83 of our weekly iPad magazine, Huffington, available Friday, Jan. 10 in the iTunes App store.