A Pennsylvania bank's front door is being hailed a hero after it stopped a robber from leaving Thursday morning.
The unidentified, 27-year-old suspect entered a Pittsburgh Citizens Bank at about 9 a.m. and demanded money from tellers, WTAE reports. He was handed an undisclosed amount of cash, but he didn't know that the door was prepared to stop him.
The bank's security system -- which was prominently advertised outside -- includes a set of double doors that lock in would-be robbers. Much to the robber's chagrin, the system worked. Witnesses said the suspect was flailing around, screaming and banging his arms and head on his bulletproof prison.
PHOTO (Story continues below):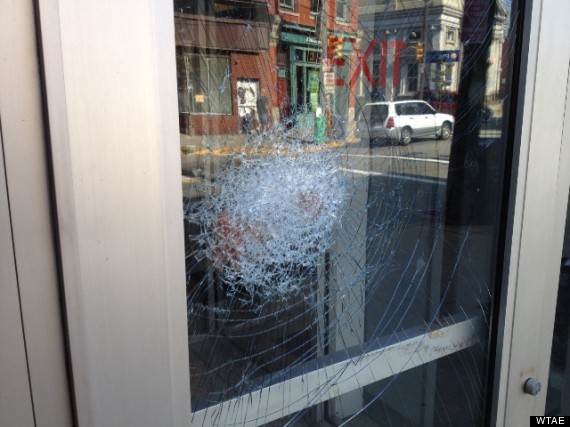 "He's crazy," Lawrenceville resident Rose Steiner told the station. "I mean, he couldn't have got out, so why bang your head or beat on the door? He's crazy for trying to rob a bank anyway."
The door sustained minor injuries, but should make a full recovery.
Meanwhile, the suspect has a huge bump on his head and a few lacerations that he'll be dealing with in jail.
He's not the only one who has recently put himself in a slippery situation, however.
In early August, Chad Forber of Rock Island, Ill., was arrested while running around naked and covered in Crisco. The 41-year-old was allegedly on methamphetamine at the time.