When designer and blogger Abbey Hendrickson purchased her 1800's farmhouse in New York, she knew there would be some work involved in making it her own. Just how much work was another question. Though the exterior looked good enough (if a little shabby), it hid a big secret that would deter all except the most dedicated do-it-yourself type. Namely, that the home had actually been abandoned for years.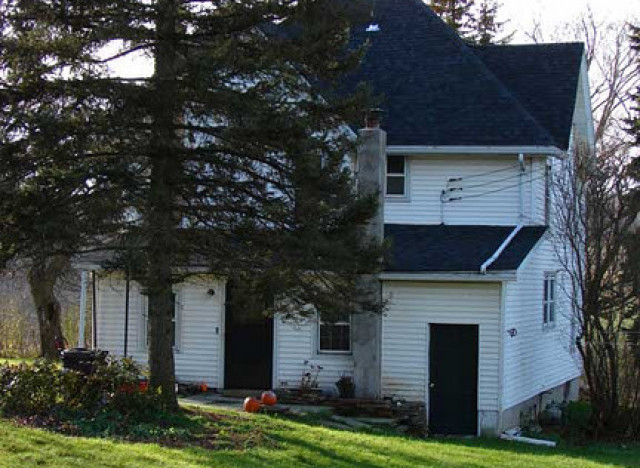 Photo: Abbey Hendrickson
Yet Hendrickson took on the challenge, rehabbing the property to a more stylish (and habitable) state. We're following her progress as she renovates the farmhouse by herself...and occasionally, with a little help from her friends. This week, we're focused on the kitchen.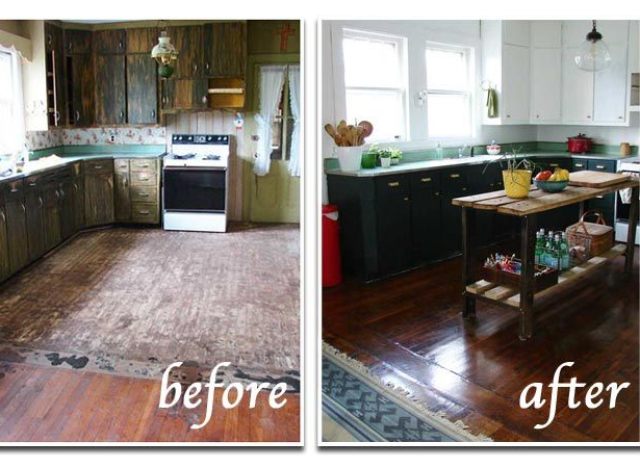 Stylelist Home: What was the biggest challenge about your kitchen renovation?
Hendrickson: Refinishing the wood floors was the biggest physical challenge in the kitchen so far. My husband and I spent days removing layers of filth and old glue, and then spent another week sanding and sealing the floors. Our dining room and kitchen make up one big room, but the floors are two different types of wood. Actually, there are 4 different types of wood on the first floor alone, so we stained everything to match the kitchen floors, which are the darkest.
Another big challenge has been patience. Our kitchen may be functional, but it has miles to go; we're planning to eventually replace the countertops, the cabinets, and the appliances. However, we didn't want to jump into an expensive kitchen renovation without understanding how the room does and doesn't work, and that takes time.
How long did the overall renovation take?
We bought this place 6 months ago, so we're still in the beginning stages of renovation. The house had been abandoned for several years prior to us purchasing it, so it took us two weeks to make the house even habitable enough to move in. Luckily my family lives nearby and they were really supportive. They babysat our kids, dropped off meals, and offered tons of great advice (both my dad and one of my brothers are experienced contractors).
Do you have any tips on refinishing floors?
We used an industrial cleaning product called Mex to remove a lot of grime. Then came the tedious task of scraping layers of old glue; that's where elbow grease and a six pack of good beer come in handy (I'm only half joking). If you use polyurethane, be sure to have good ventilation and allow the floors to dry for the recommended amount of time.
Do you have any tips on painting cabinets?
I removed all of the cabinet doors/drawers and hardware, cleaned them, and sanded them down to the wood. Then I rolled on four coats of ridiculously expensive kitchen cabinet paint that someone recommended at a local paint store. It looked terrible, so I returned that paint and used Valspar brand from Lowes. We didn't want the upper cabinets to stand out, so we painted them white and painted the bottom cabinets in Valspar's Forest Canopy. I swapped out the old hardware for brass Bedford pulls and knobs by Martha Stewart for Home Depot.
How did you accomplish this renovation on a budget?
We're taking it slow and doing everything ourselves (with lots of advice from my parents/brother). Craigslist and eBay have been great sources for inexpensive sinks, light fixtures, etc.
To see the kitchen transformation, click through our slideshow. And to check out Hendrickson's great work, visit Aesthetic Outburst.