It's the truth: We like a little kick in the mouth. But spicy savory entrees (a la Jitlada) sometimes is just not enough. Spicy margaritas (a la Las Perlas) -- also not enough. From shrink-wrapped Sriracha-spiced watermelon (ink.sack) to a haberno chile-laced cheesecake (The Spice Table), it's clear that we Angelenos want our dessert filled with heat, too. Behold, five spicy desserts you can order at your burning leisure: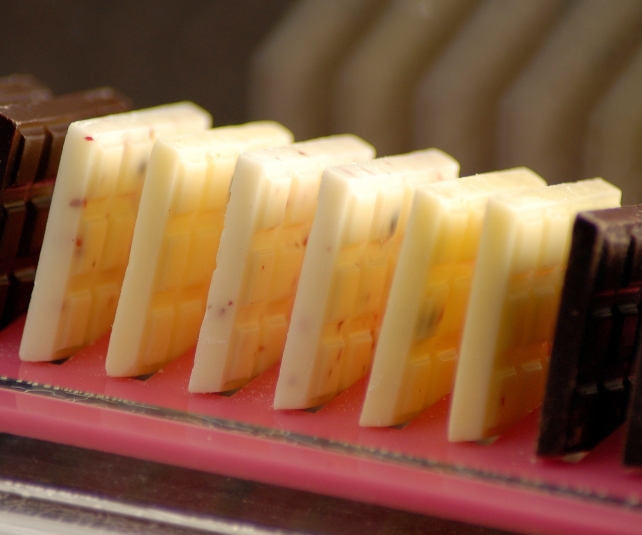 The Bazaar: It already feels kingly to dine at The Bazaar, but what tops it off is a little sense of travel. For the dessert course, you're escorted to another wacko-decorated part of the SLS Hotel: The Patisserie. For some heat, promptly order tablets of white chocolate that's peppered with pink peppercorns. Or try it in bonbon form. For the month of October, purchase proceeds will go toward breast cancer awareness.
The Bazaar by Jose Andres, 465 South La Cienega Boulevard, at Clifton Way (310-247-0400 or thebazaar.com)
Chego: Don't let just Chego's rice bowls blow up your mouth. Try dessert in two hot-hot forms: first, the Sriracha Bar, which boasts a chocolate-crisped rice bottom layered with caramel, Sriracha ganache, spiced candied peanuts and dark chocolate. Or spoon a devil's food cake form of Tres Leches -- get it? Devil! – it's soaked in cayenne and cinnamon-infused leches, plus, tapioca milk pudding and spiced peanut brittle.
Chego, 3300 Overland Avenue, at Rose Avenue (310-287-0337 or eatchego.com)
Suck It Sweets and Treats: Over the hill, you're able to procure modern-day paletas, or popsicles, to fit the modern-day Angeleno dietary brouhaha: Suck Its' frozen suckers are proud to be vegan, vegetarian, preservative-free, additive-free and/or gluten-free, but literature be damned, can we please get our lips around a HaChaCha now? The rather onomatopoeia-ically named popsicle is concocted of Mexican chocolate, cinnamon, toasted almonds, and ah, yes, cayenne pepper.
Suck It Sweets and Treats, 4361 1/2 Tujunga Boulevard, at Moorpark Street (818-980-7825 or suckitsweets.com)
Hatfield's: While Quinn Hatfield is meticulously crusting his lamb chop with dates and mint, his sweet-toothed wife Karen can't help but lace her beignets with sugar and spice. Whether this is a "Mr. and Mrs." metaphor or not, the ever-thoughtful pastry chef eschews powdered sugar for the granulated variety (plus, cinnamon and cardamom), and she serves her Sugar and Spice Beignets without the bag, and with it offers accompanying Venezuelan chocolate fondue and a root beer milkshake shot. Amen!
Hatfield's, 6703 Melrose Avenue, at North Citrus Avenue (323-935-2977 or hatfieldsrestaurant.com)
CORRECTION: This post has been edited to remove mention of Tavern's pepper cookie from this list. Tavern no longer offers this cookie.