India Must Harness Free Basics, Not Kill It
January 27, 2016
Hyderabad, India: Excitement was palpable when French economist Thomas Piketty, held in rockstar adulation by Indian intellectuals, elite and public alike, recently gave a lecture on inequality in Delhi, highlighting the world's biggest modern human problem, comparing India's extreme opulence and destitution points with the prosperity of California and poverty of sub-Saharan Africa.
Yet, when an initiative from California's Menlo Park tried to give free, but limited, internet connectivity to the Indian poor and residents of non-urban centers who have never experienced the web, a large part of the very elite rose up in arms, red-flagging Facebook on the issue of Net Neutrality.
The numbers tell an obvious story. With over 400 million Internet connections, and growing fast, we can conclude over 350 million Indians are digitally connected, ranking second only to China in absolute numbers but at the bottom of the list in percentage terms -- less than 30 percent population is online. In contrast, India has over a billion mobile connections, and growing faster than internet penetration, which providing for duplications, can still mean over 500 million people have mobile phones but have never used the internet. India is on the threshold of an opportunity to connect citizens to achieve penetration-levels closer to China (at over half its people) if not the USA at over 87% penetration.
In a digitally connected world, having over 1 billion people without Web access as per a report by McKinsey & Co., it must be both a shame and liability, requiring the nation to put its biggest efforts to connect citizens.
Digital Brahmanism
Ever since Internet.org was announced, Indians digitally-connected have taken a high moral stand against it on the basis of protecting Net Neutrality. The first product, Airtel Zero, indeed violated Net Neutrality, charging certain sites a fee to allow free access to everyone and slowing down bandwidth to competition. The digital backlash, including a downgraded rating of Flipkart app, one of India's leading e-commerce players, led to the withdrawal of the plan.
When Free Basics was launched, it led the elites to pounce on Facebook as a version 2.0 of the same plan. Motives were attributed -- from a desire to deny the poorest of Indians a full and free internet to manipulating public opinion and social reach to disguise its real target -- to increase users in its second biggest market after the USA, pretending to be a social cause.
They succeeded in transforming a potential discussion on the urgent need to connect a billion Indians with a posse of initiatives and schemes into a war against Free Basics as a threat to freedom of the existing internet. The Telecom Regulatory Authority of India (TRAI) assumed the voice of the digital Brahmins, seeking opinions on Free Basics, through email and online platforms.
One must gauge the fairness of India's crusade against Free Basics by this choice of the reach-out platform for opinion, which naturally disfranchised the digital have-nots, denying them a voice completely. Not a single offline method was deployed by TRAI, nor did government ministries responsible for Social Welfare, Women and Children Welfare, Backward Classes & Minorities, or Rural Development step up to negotiate with TRAI on behalf of their digital voiceless constituents.
The digital haves fought for and against Free Basics, rich of convenience and hypocrisy, on Facebook and other social media platforms and mobile apps.
Spirit of Neutrality Violated
A large part of the campaign led by social media opinion makers like Mahesh Murthy, unleashed, in violation of the global oneness spirit of Net Neutrality, a xenophobic jingoism, likening Mark Zuckerberg to British colonialists centuries ago who came to trade in India but ended up establishing an empire.
The alternative they offered was, ironically, borrowed from the national history of economist Piketty, in the manner of let them have cakes, la Marie Antoinette, 'let them have complete internet when they can afford it.'
The wait for India's poor for most amenities has been inhuman. The government of India, which provides electricity for 24 hours in most cities, barely gives power for nine hours a day to most villages and small towns. Indian poor have no hospitals or hospitals without doctors. Their schools have no teachers. Their wells have no water, roads have not reached them.
What Free Basics opponents have deliberately missed, and misled others, is the revenue enhancement capability of the internet, even a restricted one.
A global imperialist scare tactic has been directed since Indian liberalization began. Economists have threatened the 1991 economic reforms of India, which heralded the entry of foreign investment in many sectors, as a start of the takeover of India akin to the British by American companies. From Coca-Cola to Microsoft, in the imagination of the obstructionists, India has become a slave of each corporate -- the irony being Coca-Cola could not even change the brand name of Thumps Up--a popular cola drink it acquired over two decades ago -- and disappointingly, they resorted to similar tactics in this debate.
What Free Basics opponents have deliberately missed, and misled others, is the revenue enhancement capability of the internet, even a restricted one. Drivers using Uber apps in major Indian cities have started earning unimaginable incomes, some more than engineering graduates working in software companies.
More significantly, Indian middle classes, having found a social voice and political empowerment harnessing the access of a Facebook do not want to allow a similar say to its weaker lot of fellow-citizens, thus denying them a voice in policy. The irony is almost bizarre; it would take Free Basics or such similar initiatives to connect hundreds of millions of Indians before India can fairly and democratically decide, after including their votes, if it is good or not.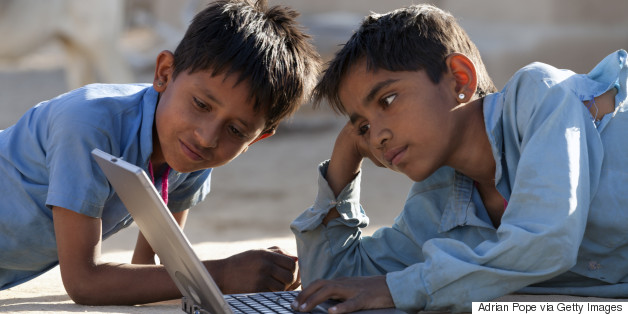 Net Access as a Millennium Goal
The access to Internet, however partial, has the power to transform. Surely the poor who cannot afford to buy a digital connection today have a right to expect to receive a poor man's version of it in charity without you and me, the digital haves, poking into it.
An access to befriend people, get connected, share a few posts and updates, make themselves safe during calamities, make a protest page to make their plight heard by the government and noticed by the media are surely not something we should grudge.
The ability to earn and transform lives exists within the internet. It cannot be denied to them, especially when it does not take away from your own neutral net, or impose an additional tax burden on us, or most importantly, can be a matter of choice for them.
The right to digitally BE, however weakly, or bleakly, is better than digital non-existence. Is that the power we wish to deny our digital have-not fellow citizens?
The Farcical Argument of Absence of Indian Sites
The argument that is often used to back the efforts to create a hatred for global success and entrepreneurs on misplaced nationalistic fervor (How can California decide for Indian poor?) is the absence of leading Indian sites on Free Basics.
The platform is open to taking Indian sites, and some of them had shown an inclination to join. The very obstructionists who are opposing led a hysterical campaign to downgrade any Indian site or app that joins Free Basics as anti-Net-Neutrality.
This stand is the moral and intellectual equivalent of the argument of the man, who plead for mercy after killing both his parents on the ground that he was an orphan.
The best part of this debate is all of us who are debating it have nothing to lose.
Many such other lies have been thrown into building this hysteria. Words like walled communities and jails. Seldom has a jail been created as in this opposition to Free Basics which comes with a logout option. Anyone can join or leave Free Basics on choice. Jail?
And a walled community? It is strange to see middle class living in actual walled communities built on land where the poor once lived, but a virtual notional walled community for the poor has the elite up in arms.
Who Loses? Power without Responsibility!
The best part of this debate is all of us who are debating it have nothing to lose. You will still be on your 3G or wired broadband if Free Basics is banned. So will those who oppose it. How can such power without responsibility be allowed to hijack a potentially society transforming start?
And have we -- each Indian middle-class net-enriched denizen -- spoken to 10 poor potential Free Basics beneficiaries before deciding whether they deserve to be connected badly now.... Or with complete internet but after years from today? Just a sample of 10 people before you decide the fate of a potential billion?
It is ridiculous that we who feel impatient when a video or site or app takes more than a few seconds to download should ask them to wait for years or even decades.
Express Highway or a Service Bylane
The issue itself is pretty simple. We do drive to some of these far-off green field airports in some cities today using a wonderful, multi-lane, high-quality express highways. Nobody denies their quality -- but they demand that we have a car and pay a toll for each use. Wonderful view and all too... as we zoom past as we seldom can in our congested city roads.
But can we deny the right of some to build a parallel but poor quality bylane, which allows cheaper vehicles, cycles and scooters and bullock carts and all -- instead of demanding they stay away for now but come back when they have a car and enough money to pay the toll.
Free Basics can be that simple, parallel bylane.
Just a Start
It is nobody's case, most certainly not mine, nor do I suspect is it the claim of Facebook, that it can address the enormity of the problem in its entirety, or that its start is perfect. No startup or beta product ever is, nor is it intended to be.
We need many efforts, much investment, loads of infrastructural and awareness changes before we get any closer to the goal. But a first step is indeed the much-needed start.
Opportunity to Negotiate With Free Basics
The charter of Free Basics as envisaged in its beta form is neither perfect nor final. Instead of being trapped in a tunnel-vision view of Free Basics as an opponent of Net Neutrality, or a goal to divide free internet into blocks, India must negotiate to get the best for its poorest.
A list of sites, including government-citizen interface, messaging and text email apps, some fundamental banking or petition app, education, healthcare and professional help for farmers, fisherfolks, weavers, including updates on safety during natural calamities and welfare schemes could be a huge game changer for the country.
In a country in which neither government nor elites have ever slightly taken up internet for everyone as a goal or its connectivity denial as a problem -- it is ridiculously unfair to allow them to vote out digitally the one chance for the have-nots to get connected.
[I]f India shuts down Free Basics, those who vetoed it would still be online, and those they shut out, never had a vote.
We Need an 80-20 Trade-Off
Between the fair globally benchmarked need for the best, neutral, free and open internet need of the middle-class, competitive and paying audiences; and an equally crucial need for a free-of-cost internet for a billion-odd people to headings towards a goal of 'digitally connecting all citizens' and providing 'internet for all' -- we need a trade-off.
A fair enough 80-20 share, would you say? Let each one of us stay on the large open ocean and consume 80 percent of the open internet, whereas, the remaining Indians get a blocked 20 percent, which is meant to provide free internet, a la Free Basics.
Let others come in to make their own version of Free Basics and compete. We can afford to make this much of a digital reservation as a affirmative action of the digital have-nots.
Conclusion
We Indian elite cheered Mr. Picketty lustily when he said, "I hope Indian elites behave more responsibly than Western elites did in 20th century", and then did the worst -- exercised power without responsibility -- because if India shuts down Free Basics, those who vetoed it would still be online, and those they shut out, never had a vote.
It is still not too late... and let us make our voice felt, and never forget -- it is not about Facebook, but us, and our fellow countrywomen and men.
Sriram Karri is the author of the bestselling novel, Autobiography of a Mad Nation, and a columnist based in Hyderabad, India. He tweets at @oratorgreat
Like Us On Facebook |

Follow Us On Twitter |

Contact HuffPost India

Also see on HuffPost:
Stunning Photos Of The Artisans Of Kashmir
"I know this is bad for my health...It may even shorten my life- span but I do hope to witness the revival of our Kashmiri art in the years ahead..."

We haven't slept; nobody has gone home since yesterday; we don't have anything to do now. We had been working on an order for a year and yesterday it was cancelled rather suddenly. The buyer refused to take it." I promptly asked why and how such a thing could happen. He answered, "I don't understand...he said he will sell machine- made shawls from Amritsar now, as he can get them in two days and earn lakhs with them."

"Weaving a carpet is a very cumbersome task...it takes ages. I used to help my husband in preparing the warp before he got a spinal problem. He used to sit and weave for at least sixteen hours a day. Now he can't weave...he is disabled. I take care of everything now: my husband, children, household and my work. I manage to earn two hundred rupees a day although an ordinary labourer earns at least four hundred rupees a day. I am fifty now and I can't sit for more than twelve hours a day on the loom. I work very hard for my family's survival," says Sharifa.

"I can't understand why girls these days don't show any interest in this. Why don't they try to learn this craft? Then when they get married they fight with their husbands over money. My husband and I work together and we earn happily for our family and ourselves. Although both of us work very hard to support our family, I don't know why I am being paid less than what my husband is paid for the same shawl," asks Sajida.

"Why are you taking my picture? I will show you some beautiful colourful shawls; click them!" As Ghulam Rasool was about to take the support of his walking aid, I interrupted, "No...I want to take your photograph; you make those masterpieces." Asking me to sit across him on a weaving bench he said, "My picture is on the shawl I weave for months. The shawl I weave is my companion; every day I spend almost fourteen hours on it. It absorbs my day's emotions into its colors. I am 90 years old and have been working for eighty- one years now. For me my life is my work, my prayers to God and weaving a shawl 'sincerely' is a medium to offer those prayers."

"Musical instruments are very powerful... When they are played, they mesmerise everyone. I am one among many who have become prey to them. This profession is riveted with my soul now. One has to carve out the rabab from a solid block of wood. One cannot use a handsaw to cut it. It has to be done with love. When it gets moulded and when one begins to play, it can just leave one's heart pierced."

"Our house was washed away by the recent floods. We have managed to make this temporary shelter by selling five gold bangles, which we had saved for our daughter's marriage. We have to work very hard now. My daughters have already started helping us..."

"What can one do and how can one contribute if one becomes most knowledgeable about this craft without any practice? One cannot do anything unless people come and show interest in learning this craft. Nobody wants to be an artisan anymore, not even my grandchildren..."

"There was a woodcarving workshop opposite our home. I remember sitting on the windowsill, observing craftsmen work with their tools. I come from a very poor family. I never went to school. When I was eight years old, my father asked me what I wanted to do and how I could work to support our family. Since then I have been working and Alhamdulillah (thanks to the Almighty), I am satisfied as I got what I wanted. My daughter has her exams tomorrow so I have to leave. I have to buy some stationary for her..."

"I know the value of this craft. I lost my son when he was twenty-seven. He was innocent. He went out to the market to buy some yarn for his unfinished shawl. There was an encounter between the army and the militants and my son was shot dead in the crossfire. Now if I get any pleasure from anything in this world, it is only from my work. I spend most of my day in this workshop. My work is my life...I won't let this craft die, not at least by my doings. Sometimes I don't have money to buy morning bread for my family, but my conscience doesn't allow me to deceive. I don't use fake material. I know what it means to lose one's identity," reminisces Mohammad Subhan.
Follow Sriram Karri on Twitter: www.twitter.com/oratorgreat