Why Delhi Police Is Going Soft On Kashmiris Who Actually Raised Anti-India Slogans In JNU
From the very beginning, it has been amply clear that the people who raised anti-India slogans at the Jawaharlal Nehru University on 9 February were Kashmiris. Yet, the Delhi Police has not even been looking for them, because arresting Kashmiri students in Delhi will finish any remaining chance of saving the PDP-BJP alliance in Jammu and Kashmir.

Arresting no one was not an option given the nationalist hysteria whipped up by the Akhil Bharatiya Vidyarthi Parishad, the ABVP. As a result, Kanhaiya Kumar, Umar Khalid and Anirban Bhattacharya are in jail even though they raised no anti-India slogans. If anything, they tried to douse that fire.

Kashmiri voices

Initial eyewitness accounts made it clear that it was Kashmiris--who were neither students nor teachers at JNU--who had raised anti-India slogans. It is common for some Kashmiris living in Delhi to attend Kashmir-related events in Delhi, sometimes even raising azadi slogans. On 9 February in JNU, however, activists of the ABVP tried to block the event which they saw as an effort to paint terrorist Afzal Guru as a martyr. As ABVP activists provoked the Kashmiris with slogans such as "Kashmir hamara hai, saara ka saara hai," the Kashmiris responded with equal provocation.
"The organisers Umar Khalid, Banjyotsna Lahiri and Aswathi intervened twice to stop the students from chanting such slogans."

Here are two such eyewitness accounts.

JNU student Talha Chowdhry told Tehelka: "The Kashmiri students chanted slogans for Azaadi—'Tum kitne Afzal maroge, ghar ghar se Afzal niklega,' 'Afzal hum sharminda hei, tere khatil zinda hain'. The ABVP activists retaliated by shouting, 'Doodh mangoge kheer denge, Kashmir mangoge cheer denge', and 'Jo Afzal ki baath karega, wo Afzal ki mauth marega'. In between, the Kashmiri students chanted slogans such as 'Bharat ke barbadi tak jang rahegi' to which the organisers objected. The organisers Umar Khalid, Banjyotsna Lahiri and Aswathi intervened twice to stop the students from chanting such slogans."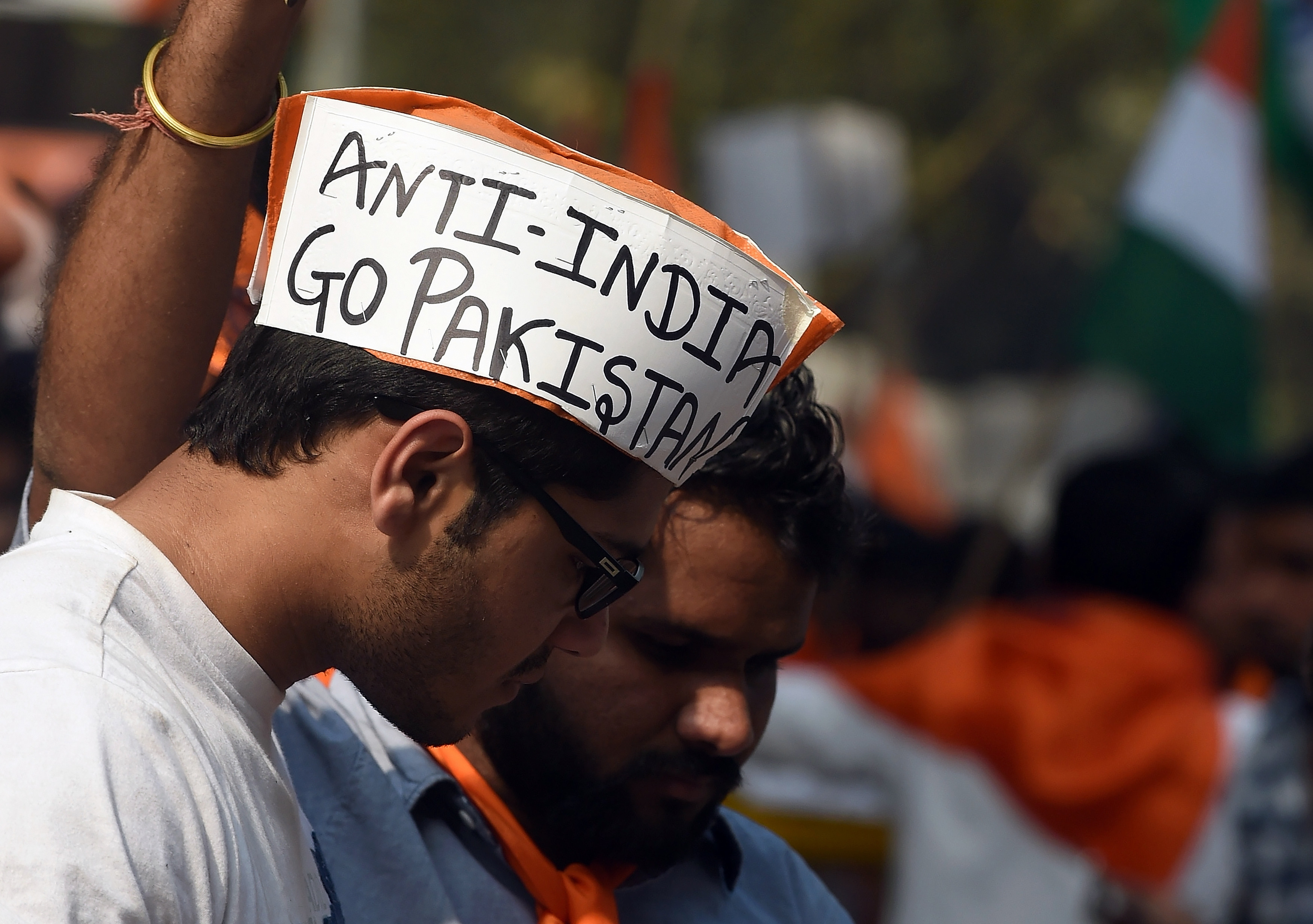 Harshit Agarwal, another student present at the event wrote, "In the meeting, there was a whole group of Kashmiri students which had come from outside JNU to attend the meeting. If you would even look closely at the video that is being circulated, you will only see these students who had formed a circle in the center of the gathering. And trust me, not one of whom was from JNU! I was present during the event for some time, and I could not recognise a single face from that group as being from JNU. This group of students who belonged to Kashmir, and had faced the wrath of the AFSPA (Armed Forces Special Powers Act) for decades, were angered to see the ABVP disrupt their meeting, and started shouting the slogans against India, like: "Bharat ki barbaadi tak, jung rahegi, jung rahegi!", "India, Go Back". In my almost 2.5 years of stay in JNU, I have never heard these slogans shouted anywhere. These are nowhere even close to the ideology of any left parties, let alone DSU."

Indeed, some of these slogans are common on the streets of the Kashmir Valley, and they are not the sort of slogans that the extreme left organisations like the Democratic Students Union raise. The Indian extreme left is not into India's destruction, they are more interested in taking over the Indian state, but they do support the right to self-determination for Kashmiris. This meeting was not even called by DSU, but by its former members.

It is curious that despite the presence of police at the 9 February event, the Delhi Police relied upon videos from news channels to arrest JNU students union president Kanhaiya Kumar. The videos turned out to be fake, but what did the police witnesses see that was not used to find and arrest the people who actually raised those slogans? The answer is Kashmiris.
Indeed, some slogans are common on the streets of the Kashmir Valley, and they are not the sort of slogans that the extreme left organisations like the Democratic Students Union raise.

After watching video clips of the event, Nilofer Qureshi, a Kashmiri writer, felt the "slogans had the unmistakable Kashmiri accent and the distinct style of delivery that one hears during protests in Kashmir!"

Arrest the Indians, leave the Kashmiris

Umar Khalid and Anirban Bhattacharya could at best be accused of organizing the event that saw Afzal Guru as a martyr, Kanhaiya Kumar not even that. While these students have fallen to the larger ABVP game-plan of discrediting JNU and leftists, the PDP subplot has meant that the whole case looks bizarre. The Kashmiris who raised the slogans are nowhere in the public discourse over láffaire JNU, and the issue at hand has been conveniently diverted to JNU's leftists, not the Kashmiris.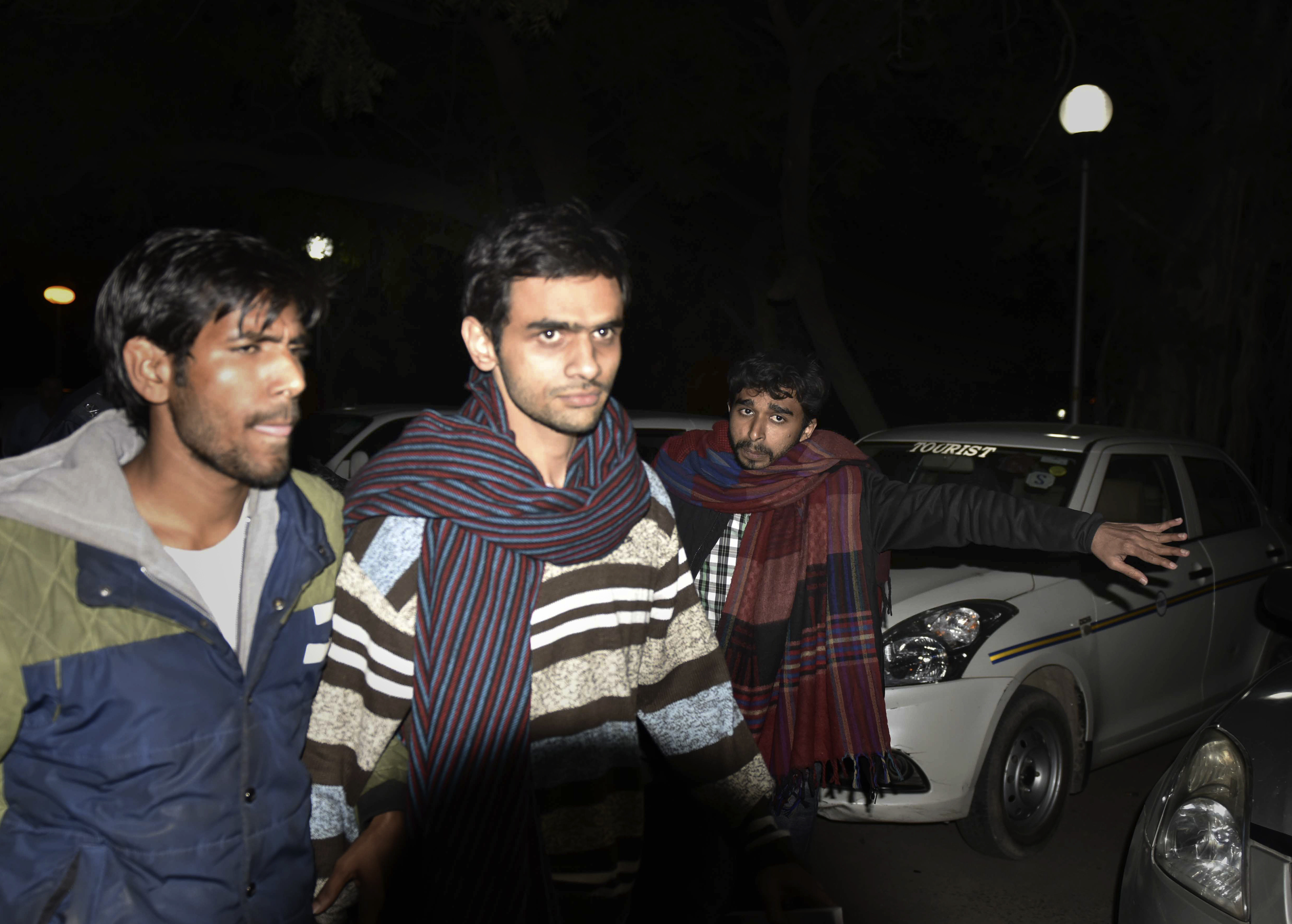 Speaking today in the Rajya Sabha, I&B and finance minister Arun Jaitley admitted the presence of "outsiders" in JNU that day, but failed to explain why the Delhi Police has not been able to find these outsiders, 16 days later. The Delhi Police calls them "foreign elements".

Ahmed Ali Fayyaz, a Srinagar-based journalist well-known for stories based on intelligence sources, has written in State Times that the Ministry of Home Affairs has verbally asked the Delhi Police to not arrest Kashmiri students, but put them under surveillance and make detailed profiles of them.

Fayyaz writes, "Sources in New Delhi told State Times that officials of the Union Ministry of Home Affairs communicated verbally to senior officials of Delhi Police that none of the Kashmiris, particularly the students, even if found involved in organising or attending the recent anti-India demonstrations, should not be immediately booked in any FIR or arrested. Reasons behind withholding the action have not been specified. However, sources added, it was being done only to protect churning out of BJP's possible coalition with Mehbooba Mufti's PDP in Jammu and Kashmir."
"Reports in Hindustan Times and The Economic Times have also hinted at the government's reluctance to go after the Kashmiris present at the 9 February event."

Reports in the Hindustan Times and the Economic Times have also hinted at the government's reluctance to go after the Kashmiris present at the 9 February event.

The confusion over Umar Khalid's links with the Jaish-e-Mohammed also stems from the need to go slow against Kashmiris. While the intelligence agencies suspect a Kashmiri named Omar with links to Pakistan to have been present in JNU, one news report confused him with Umar Khalid, who hails from Delhi.

This is also what explains why Kahsmiri students in JNU and other parts of Delhi initially feared a witch-hunt, but have calmed down since then.

"I was having tea and as the situation worsened, I left the campus and stayed with a relative for three days. When I realized that Kashmiri students are not targeted, I decided to return," one Kashmiri student at JNU told The Times of India.

The Delhi Police has questioned many Kashmiris, but did not arrest any of them.

Mehbooba draws the red line

On 17 February, BJP general secretary Ram Madhav took a secret flight to Srinagar along with an Intelligence Bureau official to meet the PDP chief Mehboba Mufti. By this time it was clear that the JNU issue had become a new stumbling block in forming afresh a BJP-PDP government after Mufti Mohammed Sayeed's death.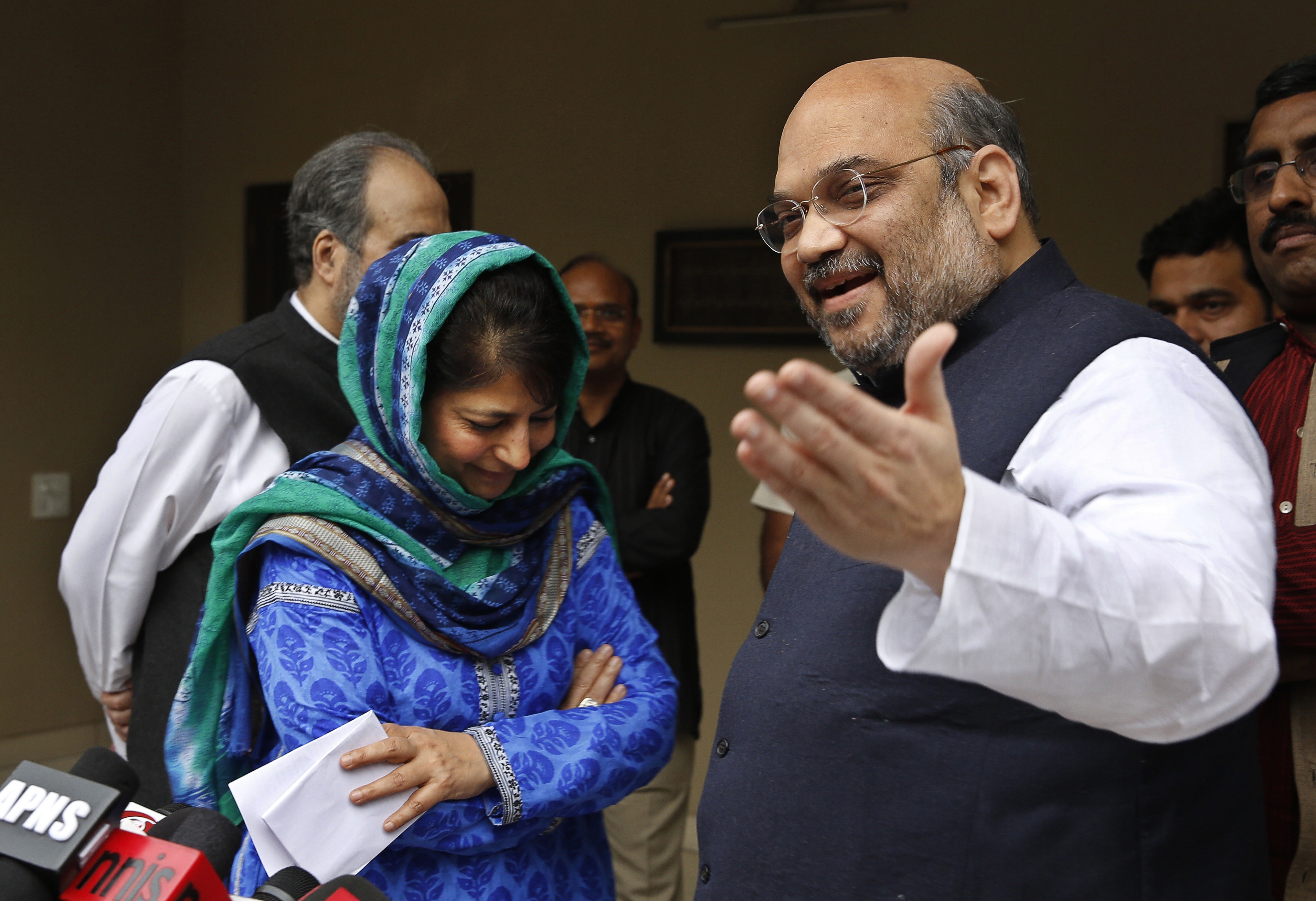 When Afzal Guru was hanged in 2013, the PDP had called it a "travesty of justice" and said the "constitutional requirements and processes were not followed in hanging him out of turn". It is also the party's stated position that Afzal Guru's mortal remains, interred at the Tihar jail, be returned to his family.

Nevertheless, the PDP has exercised restraint in not using the JNU row to issue any fresh statements on Afzal Guru. The BJP has kept its part by not arresting Kashmiri students.

Two days after Ram Madhav met Mehbooba Mufti in Srinagar, top separatist leader Syed Ali Shah Geelani issued a statement in which he slammed the PDP's silence on the issue. As the Kashmir Valley saw protests saying "Thank You, JNU," it became difficult for the PDP to continue the silence.

Breaking her silence, Mehbooba Mufti told journalists on 22 February, "I hope and I will request the Government of India that nothing should happen that would have a negative impact on Jammu and Kashmir, where the situation is already bad." She also revealed she had asked Home Minister Rajnath Singh to make sure Kashmiri students are not harassed, and that she had asked PDP leaders Haseeb Drabu and Amitabh Mattoo, both alumni of JNU, to be in touch with Kashmiri students at JNU.

Mehbooba's position is understandable, as the separatists in Kashmir have already called for protests on Friday and a shutdown on Saturday to protest the JNU incident, as well as the arrest of Delhi University professor SAR Geelani. If the Kashmiris who raised anti-India slogans in JNU were to be arrested, it is certain that Kashmir would see large-scale protests that would make it impossible for the PDP to form government with BJP support.

Three days later, Rajnath Singh gave a public assurance that innocent students won't be harassed--ironic, as Kanhaiya Kumar, Umar Khalid and Anirban Bhattacharya are having to pay the price for the Kashmiris that the Modi government does not want arrested.
Also See On HuffPost:

Excellent in releasing gas, this pose shall massage the intestine and other abdominal organs to strengthen them. Exhale and while inhaling, lift your legs at a 90 degree angle to the floor. Bend your knees to press your thighs against the abdomen. Grasp your legs with hands, and rest your chin on the knees.

Also known as the triangle pose, this move helps improves digestion by stimulating the abdominal organs. It also tones the belly and burns fat. Here's how to do it.

This yoga asana also known as Camel Pose stretches and strengthens your abdominal organs. Additionally, it also relieve back pain, and overcome menstrual cramping.

An excellent hamstring stretch, this move will also tone your shoulders as well as massage your abdominal and pelvic organs. Stretch your feet straight out, keeping your toes flexed towards you. Breathe in, raise your arms and stretch up. On breathing out, bend from your hip joints and focus on moving towards the toes with your chin. Keep your back straight, place your hands on your legs and focus on moving forward.

A fatigue-reducing move, this asana is also known as Cobra Pose - as it resembles a snake with its hood raised. It helps open the shoulders and neck and tones the abdomen, and is useful for people with respiratory disorders. Lie flat on the ground, with your forehead, stomach and toes (feet together) touching the floor, and palms downward. Breathe in, and lift your torso off the floor using your hands. On breathing out, return back to the floor.

This asana works wonders: not only does it improve your blood circulation, it'll assist digestive tract functioning, absorption and assimilation of nutrients, and also help you lose weight. According to Dr Sejal Shah, an Art of Living yoga teacher: "80 per cent of the toxins in our body are released through the outgoing breath. Regular practice of Kapal Bhati pranayama detoxifies all the systems in our body. " Here's how to do it.