Peeling Paint, Website Bug: Ringing Bell's ₹251 Phone In A Storm Of Controversies Day After Launch
It's been less than 36 hours since the launch of a phone, being marketed as the world's cheapest at ₹251, but the Ringing Bell company's Freedom 251 smartphone is already facing a storm of controversies.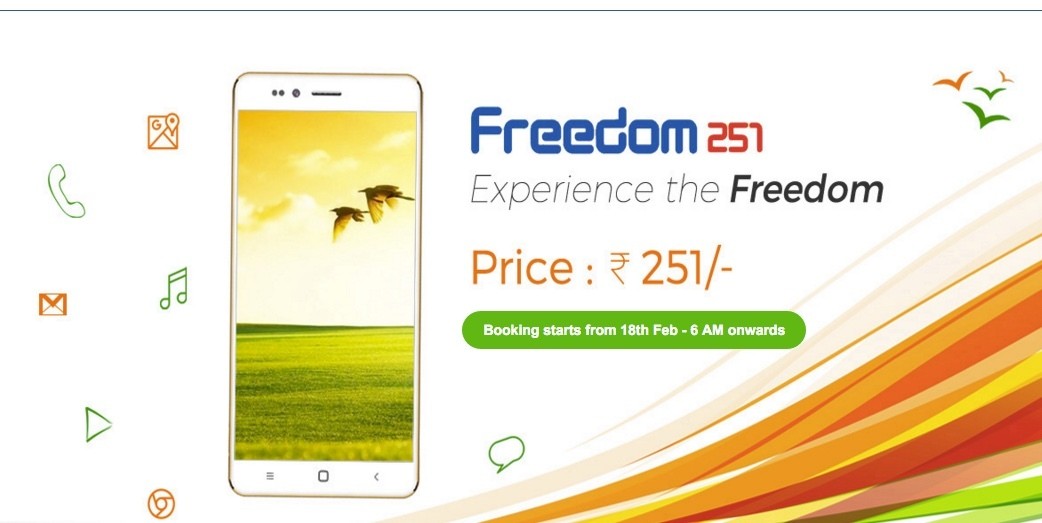 It started on an off note after Manohar Parrikar, India's defence minister, did not show up at the event hosted to launch the phone. The details given out about the phone's specs were nothing if not vague. A Hindustan Times report suggested that when asked the policy behind the pricing of the phone, Ashok Chadha, an official from the company, said the real cost of the device was ₹2500, which will be recovered through a raft of measures like economies of scale, innovative marketing, reduction in duties and creating an e-commerce marketplace.
Pranav Dixit, Tech editor for the Hindustan Times also said in a Reddit AMA that he has received a letter from the Indian Cellular Association (ICA), written to telecom minister Ravi Shankar Prasad, that estimates that the phone should cost at least USD 60 (Approx. ₹4100).
The phones handed over to the press all have an Adcom logo hidden behind a coat of white paint that easily peeled off. A report from Gadgets 360 suggested that phones handed out as review units were not the final products which will be shipped. That raises the question that who is building the final product? The report also says that Ringing Bells has not been registered at BIS, making their devices unsafe to use.
And we unveil the name of the real manufacturer of the #Freedom251 phone! pic.twitter.com/XWBdWFFOGm

— Vishal Mathur (@vishalmathur85) February 18, 2016
The Freedom251 website is a mess. Hardly anyone has been able to order the phone successfully. The website is ridden with bugs -- users who entered their details correctly and clicked on the 'Pay Now' button were redirected to the same page. There was no restriction on the quantity users could order as well. If you put 0.5 units as quantity, the price was halved.
Don't have enough money for the Rs. 251 phone? Well, you can buy half of it. Even the shipping costs are halved! pic.twitter.com/cyMZbQfAwS

— Ershad Kaleebullah (@r3dash) February 18, 2016
The first look from Livemint said the phone has copied elements from the iPhone on hardware and software sides. The icons and software design is blatantly an iOS ripoff. The build seemed pretty flimsy. But if you're selling a phone for ₹251 that can be forgiven.
The website has put up a page saying that servers are overloaded and they will be back in 24 hours.

Meanwhile, a lot of local stores are scamming people by taking ₹251 in advance for the phone.
Heights of scamming, A new scam emerged of another #Freedom251 pic.twitter.com/77ZtZTyobV

— Yatin Chawla (@YatinChawla) February 18, 2016
Some of the users even reached the Ringing Bells office to protest.
Peopl at Noida's Ringing Bells- a mobile maker's office, protesting for failing to book R251 smartphone. @htTweets pic.twitter.com/3knIchAnEl

— vinod rajput (@vinodrajputs) February 18, 2016
HuffPost India has reached out to the company for comments.
Tired of going to restaurants with limited vegetarian options? You won't have to if you find a partner who shares your passion for leafy food. Find a mate who passes on meat at VeggieDate and never worry about mealtime again.

Quit clowning around with your love life. The possibility for love at ClownDating is no joke -- the site caters solely to clowns, clown "wannabes" and clown lovers.

Do dangerous women excite you? There are plenty to go around at WomenBehindBars. Choose your very own incarcerated pen pal and you may eventually find romance (when she's released, that is).

"Cougars" seek out younger men (often referred to as "cubs") for wild times at CougarLife. Divorcees, single moms and older professionals -- they're all there, searching for young studs.

Are Star Wars, video games and complex math equations a few of your favorite things? If so, you might find the partner of your dreams at Geek2Geek. Don't worry about fitting in with the "cool kids" -- here, you're one of them!

Let it all hang out! Daters who like to spend their time in the buff can connect with fellow nudists on NaturistPassion. There isn't much left to the imagination on this site: you'll know absolutely everything you're getting, right up front.

If your nose is always buried in a book, try making a literary love connection based on your reading tastes. Alikewise allows you to see the books that your potential dates have read and to scan their reviews. Your mutual interests could signal a spark, and at the very least, you'll discover some great reads.

All you need to join MulletPassions is a love of this iconic hairstyle. Find members who share your interests, which often include country music, monster trucks and wrestling. You're on your own, folks.

Make a connection on the green at GolfingDates. You won't have to stress about what to do on your date -- it's clear that you'll be meeting up for tee time. Even if you don't hit it off, you'll get in some exercise, and possibly improve your stroke.

Feeling lonely on the road? Rev up your engine and meet fellow motorcycle enthusiasts at BikerKiss. Not all of the daters aren't leather-clad and covered with tattoos, but if that's your thing, this wouldn't be a bad place to check out.

Those who love snuggles, nuzzles and long walks with furry friends unite on LoveMeLoveMyPets. It's the perfect place to find a human companion who loves your pets as much as you do (and doesn't mind a little pet hair on their clothes).

Tired of plowing fields, milking cows and sowing seeds all on your own? Find a fellow farmer to reap a bountiful harvest with at FarmersOnly, then watch your relationship…grow.

Those who are thirsty for blood can meet vampires and vampire lovers at VampirePassions. There's even an option to hook up with those who enjoy the same blood type as you! As they say, it could be love at first bite.

Stoners need love too. 420SinglesOnline caters to marijuana enthusiasts who are looking for someone to share a joint with -- and maybe even something more. It's a high you'll never forget.

Mother knows best at DateMySingleKid. On this unique site, women can seek out partners for their sons, daughters, nieces, nephews and even their grandchildren. The kids may not appreciate their matches, but rest assured the potential dates will surely be the kinds of people you can take home to meet Mom.