Was It A Meteorite That Killed A Man In Tamil Nadu? NASA Says Jayalalithaa Is Wrong
An explosion in Tamil Nadu that left one man dead and three others injured does not appear to be a result of a meteorite crash, said the National Aeronautics and Space Administration (NASA). In a public statement, scientists have said that photos of the explosion that left a crater in a college campus in Vellore appeared to be from "a land based explosion" rather than something from space.
This is two days after the state chief minister Jayalalithaa declared that the mishap was a result of a falling meteorite.
Jayalalithaa's office on Sunday had released a statement that said, "A mishap occurred yesterday when a meteorite fell in the campus of a private engineering college in Vellore district's K Pantharappalli village."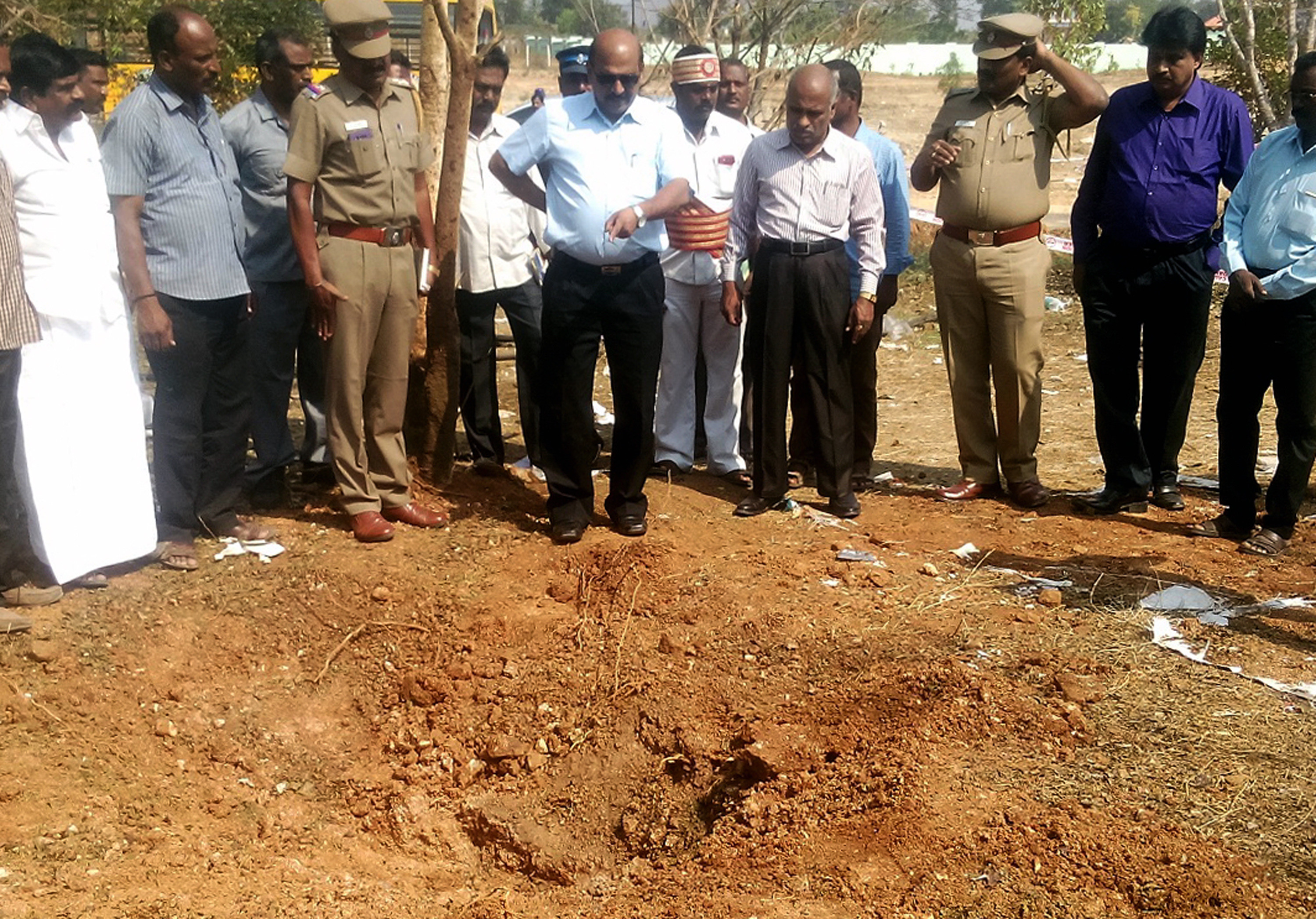 Indian authorities inspect the site of a suspected meteorite landing on 7 February, 2016 in Vellore district in southern Tamil Nadu state in an impact that killed a bus driver and injured three others on 6 February.
The state leader had called it a meteorite strike even though the debris from the site had not yet been examined. Indian scientists were also skeptical if it was a meteorite that had crashed.
"Considering that there was no prediction of a meteorite shower and there was no meteorite shower observed, this certainly is a rare phenomena if it is a meteorite," said Prof. G.C. Anupama, the dean of the Indian Institute of Astrophysics, which is analysing the debris found at the site, told New York Times.
If it was indeed a meteorite explosion that killed the bus driver on Saturday, he would be the first in centuries to be killed by a meteorite. The last such death was recorded in 1825.
Like Us On Facebook |

Follow Us On Twitter |

Contact HuffPost India

Also See On HuffPost:

8 Popular Indian Food Myths Busted
That plate of suji golgappas is not exactly a healthy diet snack. "Suji (semolina or rava) is the granular form of maida (flour). Its nutritional content is same as any other refined grain like polished rice or refined wheat flour," says Dev Khosla, co-founder of theweightmonitor.com, an Indian weight management website. Khosla goes on to explain that whole grain is composed of four major components - husk (inedible portion), outer tough bran (fibre rich), endosperm (starch rich part basically providing complex carbohydrates and energy) and germ (nutrient rich part, a good source of proteins, fat, vitamin E, B, iron, magnesium and chromium). During milling, the fibre-rich bran layer is removed and germ also gets ripped off, thereby, abandoning the grain of fibre and nutrition, leaving behind only the starch-rich component, the endosperm. The broken endosperm is called suji and its ground form is flour.

Should it be used as a garnish for salads? Does it lose its nutrients after being heated? There are many questions that render cooking with extra-virgin olive oil a dubious topic in the Indian kitchen. "However, olive oil is one of the most heat stable oils," says Delhi-based nutritionist Ishi Khosla, founder of The Celiac Society For Delhi. "In fact, extra-virgin olive oil is more stable. Hence, it is a myth that it cannot be used for cooking." That said, she adds that heating any oil to high temperatures leads to formation of undesirable compounds and loss of nutrition. "Therefore, to derive the maximum benefits from any natural fat, it is better to minimise its heating," says Ishi. "Also, it is valuable to know that extra virgin olive oil is low in acid, resulting in a fruity flavour and aroma, so you need to use less to enjoy the flavour," says Dev.

Just when you thought you had found a cheat guide to sweeten your life. "While honey and molasses certainly are natural unrefined sweeteners, they still have a high glycemic index, just like white, refined sugar," reveals Dev. According to Ishi's research, honey contains more calories: 1 tablespoon honey provides nearly 65 calories, as compared to only 46 calories provided by the same amount of table sugar.

The exaggerated fears of cholesterol (cholesterophobia) and saturated fat have virtually driven out the one of the most revered cooking ingredients in the Indian kitchen - pure desi ghee. A study published in the Indian Council Of Medical Research was conducted at AIIMS, New Delhi with 63 healthy physically active adult volunteers (52 men and 11 women). The group was provided ghee and mustard oil in diet for 8 weeks. Their serum total cholesterol and HDL cholesterol level increased while LDL cholesterol level did not show any change. "Desi ghee is 65% saturated and 32% MUFA (monounsaturated fatty acids)," says Dev. "MUFA is a highly desirable form of dietary fat- the kind of fat found in olive oil, which helps in cholesterol reduction. It is perhaps even more desirable than PUFA (polyunsaturated fatty acid) because it does not lower the good cholesterol, the HDL." Comparatively, desi ghee scores over oils like sunflower, safflower, corn, and cottonseed oils.

According to Ishi, one of the greatest myths about apples and bananas are that they are good sources of iron. "Apples and bananas are an excellent source of fibre, not iron. This change in colour is an enzymatic reaction that has nothing to do with iron. The darkening results from the oxidation of phenolic compounds in fruits, in the presence of oxygen available from air and the supporting enzyme. Likewise potatoes and sweet potatoes also turn brown on exposure to air," she says. For iron-rich foods, turn to dry fruits such as raisins or dried apricots, recommends Dev.

"Although an egg contains nearly 215 mg cholesterol, and a single yolk can makeup for the entire day's limit of 300 mg cholesterol daily, egg cholesterol seems to have little impact on blood cholesterol levels," finds Dev. According to a 2012 study published in National Center For Biotechnology Information, a number of recent clinical trials that looked at the effects of long-term egg consumption (as a vehicle for dietary cholesterol) reported no negative impact on various indices of cardiovascular health and disease. The same study also quoted the Dietary Guidelines Advisory Committee 2010 conclusion that consumption of dietary cholesterol in the amount of one egg a day is not harmful and does not result in negative changes in serum lipoprotein cholesterol and triglyceride levels.

Staying away from the sweet stuff will kill a few calories, but won't necessarily eradicate diabetes. "Diabetes is a disorder of carbohydrate metabolism, and is caused by a combination of genetic and lifestyle factors including high calorie diets, overweight and physical inactivity," says Dev. Ishi adds to this saying that excess calories from any source: fat, starch, protein or sugar will result in insulin resistance, weight gain and thereby predispose an individual to diabetes. Sugar certainly increases the risk for obesity, however, those who do not consume sugar are not necessarily protected. "It is not the sugar, which causes diabetes rather it is the inability of the body to effectively metabolise carbohydrates, which leads to diabetes," says Dev.

A standard Indian household snack for better health is a handful of of almonds, walnuts, peanuts mixed together with a peppering of kishmish (raisin). Why a handful? "Most likely, because most people here believe that overdosing on nuts leads to obesity and cholesterol problems," says Dev. According to a 2010 study published by Dr Emilio Ros, director of the Lipid Clinic, Endocrinology & Nutrition Service at Hospital Clinic of Barcelona, interventional studies consistently show that nut intake has a cholesterol-lowering effect, even in the context of healthy diets, and there is emerging evidence of beneficial effects on oxidative stress, inflammation, and vascular reactivity. "The truth is that nuts are useful to lower cholesterol levels," adds Ishi. " Besides this, they are cardio-protective, help in weight reduction and prevention of several diseases."